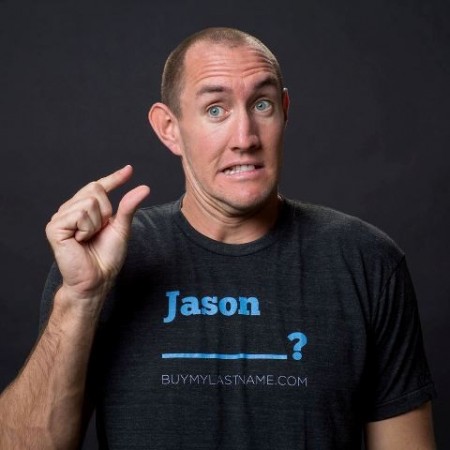 Who knew one could make a living by wearing a T-shirt by a brand and promoting the firm on common social media platforms like Twitter and Facebook? Well, looks like Jason Sadler did just that.
A former marketing professional from Florida, Sadler started his own company IWearYourShirt. When Sadler wears something, it becomes a rage thanks to his 38,438 loyal followers.
What started as a small venture with Sadler charging $1 for the first day, $2 dollars for the second and $365 on 31 December, blew up into a full-fledged venture with brands vying for his attention. Now he is so popular that he charges $3000 (₹1, 91,157 approx.) for weekly sponsors.
Bringing yet another quirky idea to the world of sales and marketing, Sadler sold his last name to headsets.com in 2012, through an auction that fetched $45,500 (₹28, 98,301 approx). He now calls himself Jason HeadsetsDotCom.
So what drove the 31-year-old to take such an unconventional route to success and make use of social media platforms in such a creative way? Let's find out.
How did you get this extremely creative and unique idea?
You know the saying "when life gives you lemons, make lemonade?" That's pretty much what happened to me in April of 2012. My mom called and let me know she'd be going through a divorce. The circumstances weren't great and this is the third last name I've had in my life (so I wasn't particularly attached anyway).
I've been the guy who's sold the shirt off his back for the previous five years, so the idea to sell my last name just made sense. Plus, it's not like I would have to sell it forever and have to take just any last name that came through. Once I ironed out all the details, I had the BuyMyLastName.com website built and started the bidding at $0.
Headsets.com won the auction for $45,500 and shared that they saw an increase in sales of $250,000 and record-breaking traffic in 2013. Why not try it again? So, here I am, selling my last name for the second and final time for 2014. This auction has already seen more bids in the first day than the entire auction saw last year.
Now you and your company iwearyourshirt.com are extremely popular but was it initially difficult to convince brands to pay for wearing their T-shirts?
Oh yes, getting started with iwearyourshirt.com was a struggle. I thought the idea was so innovate, unique, and companies would come knocking down my door to give me money. That unfortunately did not happen.
What I did get a lot of was criticism and negative feedback. I used that negativity to fuel my desire to make IWearYourShirt more successful than anyone thought it could be. I contacted every single person I knew and asked them to share the idea (not to buy anything). That word-of-mouth led to my first few sales, which led to a couple press hits, which just kept snowballing from there.
Over the course of five years it never stopped being difficult to convince brands that had never heard of IWearYourShirt to pay me to wear a t-shirt for them. When you do something that's completely different from the norm, it's not easy for people to understand or trust right away. I just continued (and still continue) to stand by goals for my company and the idea of doing things uniquely.
Tell us about your upcoming book Creativity for Sale.
I'm extremely excited to write this book. Over the course of my entrepreneurial life I've learned so many lessons, but one of the biggest lessons is life is too short to do stuff we hate (especially our jobs). Everyone has some type of creativity buried inside of them, waiting to be unleashed, whether they're an artist, musician, designer, actor, marketer, etc.
You should embrace who you are and what you are willing to spend countless hours doing. My book will tell some of my stories, will talk about how I did the things I did, and will share stories of people I've helped unleash their inner creativity and make money doing what they love. I'm also crowdfunding Creativity For Sale and not using a big book publisher or book agent. I want to show people the way the book was written was an example in itself of what the book will be about.
Why did you choose to support Water for Life through the buymylastname project?
Great question. I've worked with hundreds of non-profit organisations over the years and it's hard to pick one for a project like BuyMyLastName. The reason I chose WaterIsLife is because so little money helps them make such a huge difference in someone's life. Just $10 gives someone clean drinking water for a year! That's incredible. It's my hope that BuyMyLastName can make a huge impact for WaterIsLife and all the great things they do in this world.