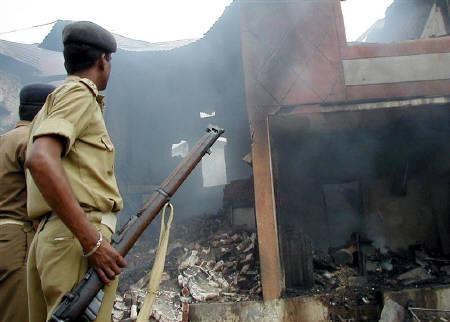 A special trial court in Himmatnagar, north Gujarat, on Friday acquitted six people accused of killing four individuals, including three Britons, near Prantij town during the 2002 Godhra riots.
The court, presided over by Sabarkantha Principal District Judge IC Shah, dismissed murder charges against the accused on account of the prosecution's failure to produce sufficient evidence.
The case, one of the nine Gujarat riot cases, was dismissed on the 13th anniversary of the Godhra train massacre.
The six accused, Patel Mithanbhai, Patel Chandubhai, Patel Ramesh, Patel Manoj Kumar, Patel Rajesh and Patel Kalabhai, were charged with the killing of four people by burning them alive on a highway near Prantij town in north Gujarat while they were going to their native village in south Gujarat from Jaipur.
Imran Dawood - who was visiting India for the first time with his UK-based uncles, Saeed Dawood, Shakeel Dawood, and Mohammad Aswat were allegedly attacked by a mob. While Imran managed to escape with the help of a policeman, Saeed, Shakeel, Aswat and their driver, who was a local, were burnt alive.
The six accused were arrested by a Special Investigation Team and slapped with charges of murder, rioting and allied offences.
Complainant Imran, whose statement was recorded via video conferencing in 2010, could not identify the accused during the trial.