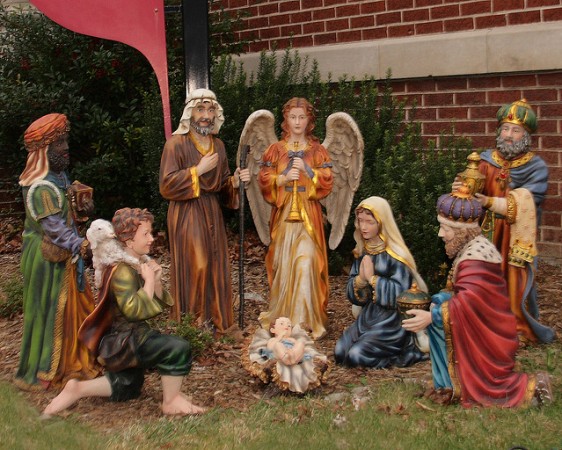 As many as 1,039 people gathered at the Rock Canyon Park in Provo to set a new world record for the world's largest nativity scene on Monday.
Apart from the volunteers, hundreds of people dressed in white, playing angels reached the venue to claim the Guinness Book of World Records' title for the largest live Nativity.
The previous record was 898. "It was set in Lancashire in the United Kingdom in December, 2013," said Michael Empric, an adjudicator for Guinness World Records. He also attended the Rock Canyon Park event to verify the figure and declare it the winner officially, Herald Extra reports.
The lead roles in the endeavour were played by musicians, local TV stars, YouTube stars and many individuals popular for their membership in the Church of Jesus Christ of Latter-day Saints. A camel, a donkey and a few sheep also took part in the play, Deseret News reports.
One of the producers of the event, Derral Eves, said that it was around three and a half weeks ago that people suggested that they should try to break the previous record.
"We wanted to do it simply to show the world what Christmas is all about. It is not all the presents, but it is about the true gift of Christmas -- Jesus Christ," Eves said.
A member put forth the idea of doing a Nativity scene.
"Within 12 hours we had a plan. I truly believe that Heavenly Father had his hand in all this," he said adding that he also received a lot of help from various corners.
The response they received was a miracle in itself. "To break the world record we needed to be over 900. We had roughly 1,800 sign up," Eves added.
He further said that around 50 families were responsible for sewing costumes, which were mostly white. Some of the dresses had battery-powered lights attached to them. He also said that the social media contributed in spreading the news and gathering volunteers from various parts.
Post the Nativity scene, a number of YouTube musicians got together to make a video, which is scheduled to air 13 December.
Austin Craig, who helped plan the project, said: "It's not just Mormons making a Mormon video, these are Christians focusing on Christ. We want to bring that focus back on Jesus during the Christmas season, so that people remember that it's about more than Santa and reindeer and presents and what's in my stocking. This is a time to remember the redeemer of the world."