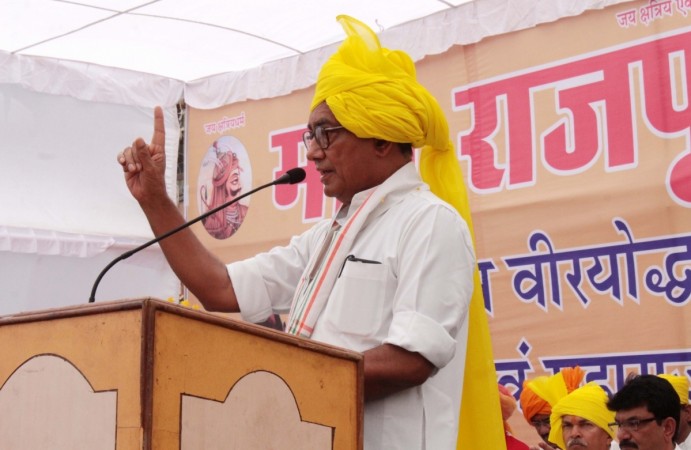 Congress leader Digvijay Singh landed himself in a controversy again after a 2012 video shows him praising Zakir Naik an Islamic preacher and scholar — who is believed to have inspired the perpetrators of the recent Dhaka cafe attacks — as a "messenger of peace".
"My speech at conference organised by Zakir Naik is being shown. I spoke against Religious Fundamentalism and appealed for Communal Harmony. If GOI or the Govt of Bangladesh has any evidence against Zakir Naik's involvement with ISIS they should take action against him. The conference was for Communal Harmony and against Terrorism. Also to explain that Islam is against Innocents being killed [sic]," tweeted Singh after the video went viral.
Naik made headlines after it was found that the two killers who attacked a bakery in Dhaka recently were inspired by the Mumbai-based preacher. Bangaldesh's information minister Hassanul Haq Inu was quoted as saying by the Times of India that they have received multiple complaints against Naik. Meanwhile, Minister of State for Home Affairs Kiren Rijiju said that Indian agencies were looking into Naik's speeches and sermons.
The preacher, meanwhile, had condemned Isis for the attack. Meanwhile, he reportedly also inspired a recently arrested leader, Ibrahim Yazdani, of an Isis-inspired module in Hyderabad.
Naik, a doctor, debater, preacher, televangelist, Salafist and a globally recognised Islamist scholar, has millions of followers, and is banned in Canada and the United Kingdom. He was also banned in April 2016 from giving a speech at a public event in Malaysia.
Closer home, the Shiv Sena has called for a ban on the preacher. Meanwhile, reports in Bangladesh media have claimed that Rijiju said that India would consider banning Naik if the request came from Bangladesh. The MoS reportedly told bdnews24.com that even though India has never invoked the Unlawful Activities Prevention Act (UAPA) against an individual, it would consider using it against Naik as Bangladesh's safety was of "utmost concern" to India.
Meanwhile, Singh was trolled on Twitter for the 2012 video showing him making a speech at an event where Naik invited him.
Related
Dhaka attacks: Mumbai Islamic preacher Zakir Naik, Bengaluru ISIS blogger inspired gunmen
Zakir Naik's Peace Mobile 2 is the world's first Islamic smartphone
Bangladesh terror attack: BCB confident of hosting England in October despite tensions
India had warned of Isis terror attack in Dhaka, says Bangladesh govt official
Bangladesh terror attack: Irrfan Khan, Taslima Nasreen condemn incident, but with opposing views of Islam