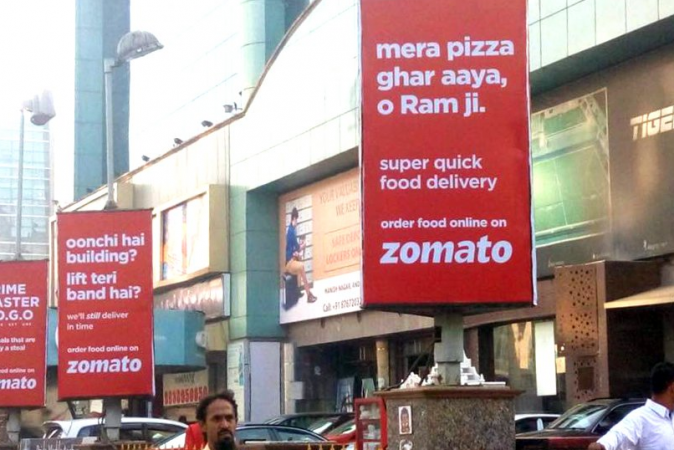 Unless you are living under a rock, you must have come across at least one hoarding – on the roads or online – featuring Zomato's new ad campaign. The new advertisements feature some of the most popular pop culture one-liners and puns to grab attention.
Right from PM Narendra Modi's "Ache Din" campaign and Judwaa 2's "Oonchi hai building" song to Arnab Goswami's "nation wants to know" rant, the creative team at Zomato seems to have done an impressive job.
However, they did manage to stir some controversy with one ad in the series. Zomato put out an advertisement which read: MC or BC (MC for Mac and Cheese and BC for Butter Chicken) in bold. It went on to read: "We've got it all. Order food online on Zomato."
The cheeky and punny hoarding eventually opened the floodgates of reactions as user began calling out Zomato for their "shameful" and "sexist" ad.
Zomato cofounder Pankaj Chaddah took to Twitter to apologise to everyone who took offence. And not too long after, Akshar Pathak from Zomato's creative team had a sarcastic comeback to everyone who called out the controversial ad.
The original apology read:
"Hey, while we didn't mean to, we can see why it can be offensive to people, and we apologize for it. We will take this ad down with immediate effect. cc @AksharPathak @prao24 [sic]"
To this, Pathak replied: "I've already started working on the replacement creative," along with a picture of a billboard reading: "This billboard doesn't offend anyone."
The cheeky reply comes after author Suhel Seth pointed out how distasteful the ad was.
Tagging Union Cabinet Minister of Textiles and Information & Broadcasting Smriti Irani, he wrote: "Shame on you @ZomatoIN ! Absolutely shameful what you've attempted to do. Your investors should be sickened by your behaviour! @smritiirani : this is outrageous. @ascionline [sic]"
Regardless of the backlash, numerous people said they quite liked the particular ad.
"#RGB in Mumbai billboards today. Also featuring @Zomato's bold move at trying to get the #Millennial attention via an interesting copy, [sic]" pointed out a Twitter user.
"Outdoor advertising done right. Kudos @Zomato take a bow, [sic]" added another.
It's all about your thinking. MC and BC are just two english alphabets brought together and used as an acronym for Mac n Cheese and Butter chicken. You need to change your thinking sir! @AksharPathak

— Akshay Narkar (@AkiDoiT) November 30, 2017
Finding a non offensive ad as offensive is an art. Great work, Mr. Suhail Seth! :)

— Chess (@Stupidbrio) November 30, 2017
Here are some other ads from the series: