April fools' day 2017 is over so we can stay assured that a certain piece of news we just came across on a Tuesday morning could indeed turn out to be genuine. But not everything is true unless confirmed otherwise.
With Zlatan Ibrahimovic, however, expect the unexpected.
Quite a revered news outlet, the Fox Deportes has reported that Manchester United's superstar is an LA Galaxy player next season. Just one sentence, that's it.
As we await further details with bated breath, so do the plethora of Manchester United fans around the world who are already having a what-where-how start to the morning. Football lovers on social media have picked up on the piece of news to rant their opinions.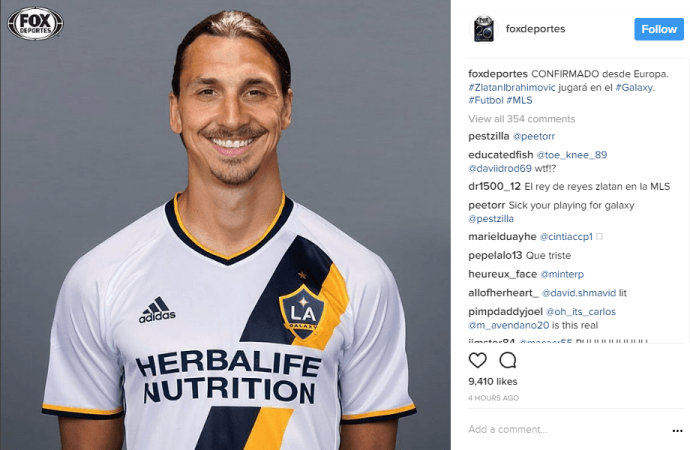 What a time to be alive Zlatan Ibrahimovic to @LAGalaxy. This is going to be interesting seeing him play in LA.

— Omar (@iSLaaaa_) April 4, 2017
Other news outlets have slowly started picking the story and it is claimed that 35-year-old Ibrahimovic could be paid more than €15 million a year. Should the confirmation actually come in a few weeks' time and Man Utd see their worst fears come true, Zlatan will be making the move to the Major League Soccer (MLS) side as a free agent.
As of now, all eyes will nevertheless be on Ibrahimovic as he makes his return to the Manchester United line-up against Everton in the evening, following a three-match domestic ban. Full team news ahead of the match.
"I feel good," told Zlatan to MUTV. "I missed Old Trafford and the games with my team, but finally I am back and hopefully I come back with positive vibes."
List of possible Zlatan Ibrahimovic replacements at Manchester United
Antoine Griezmann - Atletico Madrid
Romelu Lukaku - Everton
Harry Kane - Tottenham Hotspur