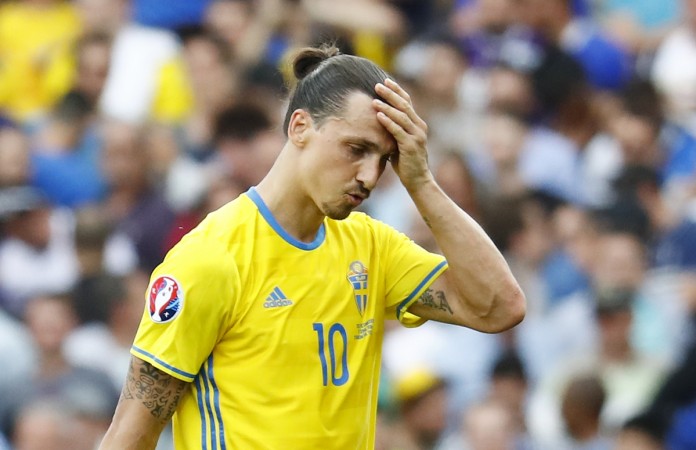 Sweden football star Zlatan Ibrahimovic will not be seen in the national team colours following Euro 2016. The lanky forward, who is tipped to join Manchester United this summer, announced on Tuesday he would be retiring from his international career post the end of the European Championship.
Sweden take on Belgium on Wednesday in their final group game of Euro 2016 and it could well be the last international game for Zlatan. After not being able to record a win in any of their previous two games of the competition, Erik Hamren's side are facing exit and only luck and a win against Belgium could get them through to the last 16.
It was assumed that Ibrahimovic could make an appearance in the Rio Olympics 2016 as well, but all the speculations have come to a rest now.
"The last game for Sweden at the Euros will be the last game for Sweden. I hope it is not tomorrow [Wednesday]," Ibrahimovic, 34, has been quoted as saying by Reuters. "I will not play at the Olympics so I hope we go as far as possible here. Either way, I will not end disappointed. I am very proud to be captain of Sweden.
"I want to thank all the supporters who have helped me achieve what I have done. Wherever I go I will always bring the Swedish flag with me and be proud of it. I will never be disappointed. Thank you everyone," he added.
As on June 21, 2016, Ibrahimovic has made 113 appearances for the Sweden national football team, scoring 62 times. He made his international debut in Jan. 2011.
The former PSG, Barcelona and Juventus forward may boast of an incredible trophy cabinet he won in club football, but Ibrahimovic have never been able to win any trophy with Sweden in his career.