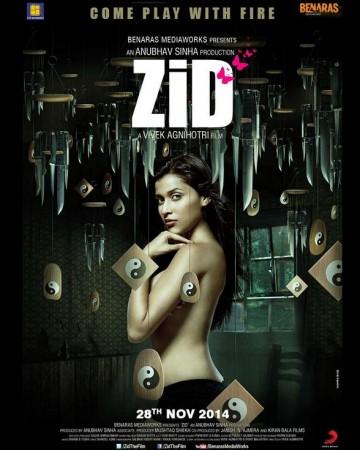 Anubhav Sinha's production "Zid" starring Mannara aka Barbie Handa has been the talk of the town ever since the poster of the leading actress was revealed.
And now, the trailer of the thriller film that was released on 29 October has been creating waves among the viewers and has garnered over 1.6 million views on YouTube.
Elated with the huge number of hits, Sinha took to Twitter to express his happiness.
"For over 30 hours #ZID trailer continues to be the MOST POPULAR video in the country. 1.34 Mil Views in 4 days," he tweeted.
"Zid", directed by Vivek Agnihotri is Priyanka Chopra's cousin Mannara's Bollywood debut film. The sexy lady has earlier worked on many projects down South.
Besides baring almost all for the film's poster, Mannara is seen making intimate kissing and love scenes in the trailer. The actress looks sensuous with her bold sex scenes with the lead actor Karanvir Sharma.
Going by the two minute 28 second trailer, it appears like the film is a romantic thriller that has a lot of steamy scenes to make its viewers glued to their seats.
Co-produced by Mushtaq Sheikh, the makers are confident that the talented actress will surely grab a lot of eyeballs with her fabulous work in the film.
"Zid" is an erotic psychological thriller produced by Sinha and Sheikh and presented by Benaras Mediaworks. It is slated to hit the theatres on 28 November.
In a recent interview with The Times of India, Mannara mentioned that she doesn't mind showing her bare body as she finds it hot. "We are in 2014 and I can't be in a ghoonghat. If I wanted to be all covered, I'd do a saas-bahu serial. I have a hot body and I don't mind showing it."
There were also reports that Agnihotri has detached himself from the film after Sinha started promoting "Zid" as an erotic thriller without seeking his advice. However, no confirmation has been made regarding this.
Watch "Zid" trailer below: