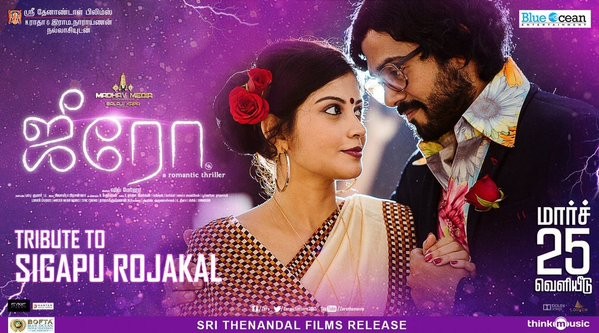 Ashwin Kakumanu's latest Tamil movie "Zero" hit the screens worldwide Friday, March 25. The movie is written and directed by Shiv Mohaa (Arun Kumar), and stars Sshivada, JD Chakravarthy, and Ravi Raghavendra. "Zero" presents Nivas K Prasanna's music, Babu Kumar's cinematography and Sudharshan's editing.
The movie had drawn the attention of the audience with its trailer. Also, the songs "Uyire Un Uyirena," "Veredhuvum Nijamae Illai" and "Engae Ponaai" gained appreciation soon after the music release. These factors had built a lot of curiosity around the supernatural-romantic thriller.
The plot of the film revolves around a couple, social worker Bala (Ashwin) and Priya (Sshivada), who shift in an apartment bought by his father. Their excitement turns into shock when they start experiencing weird phenomena in the house.
Priya has inherited some mental illness from her mother and her struggle between dreams and reality forms the crux of the story.
"Zero" tries to explain how this world started and how that's connected to the present-day events. The story is said to be inspired by a legend set in ancient times.
Reviews:
Find the viewers' response to the film below:
Sujith wrote: #Zero First half : Deals wit d mental illness of the heroine. She s unable to differentiate d truth frm fantasy. Interval block, #Sshivada.
#Zero Deals wit mental illness, travels as a ghost stry, but luv overcomes all. Complex yet thrilling. Rewrites history of Adam-Eve 3.25/5
Rajasekar wrote: Liked #Zero,brilliant script&top notch performance by lead actors, @Ashwin_as_is & @Sshivada_Nair.Hope audience accept this unique attempt!
Zero - @nivaskprasanna 's songs and BGM are big plus. Brilliant visuals by debut DOP Babu Kumar
#Zero - great work by the vfx team, kudos to the director's research. If you like unique, intelligent movies, definitely give a try!
Vinoth Kumar posted: #ZERO - Dazzling Visual,Extraordinary Music,Superlative Concept. Have you booked fr this Thriller? Dnt miss it. @Dhananjayang @Ashwin_as_is
Only Kollywood wrote: Halfway through #Zero. Highly engaging with lotsa thrilling moments so far. Thumbs up for the work in all aspects. Great going
Haricharan Pudipeddi tweeted: #Zero at interval. Extremely ambitious effort. Demands attention to appreciate the film. Thoroughly intrigued.
I'd be disappointed if a film like #Zero is not appreciated. And what a talented artist is Sshivada, who will move you with her performance.
#Zero is excellent. Agreed it's a complicated film and one might not instantly like it but the writing is simply amazing. Loved it
Prashanth wrote: Irrespective of the result, respect to @Ashwin_as_is for playing such a dedicated role in #Zero . Loved your work brother.
#Zero interval - sucks you in to screen. You desperately feel like getting out if it.
#Zero interval - too dark and depressing. The making and acting is that good.
Sathish Kumar posted: #‎Zero‬ - Kollywood Cinema fans always encourages new attempts. They have done it yet again after ‪#‎Pisasu‬, ‪#‎DemonteColony‬ & ‪#‎Maya‬ from Sri Thenandal Films
#Zero - Experimentation at its best. Kudos to the team for the first ever attempt in Tamil Cinema.
Related