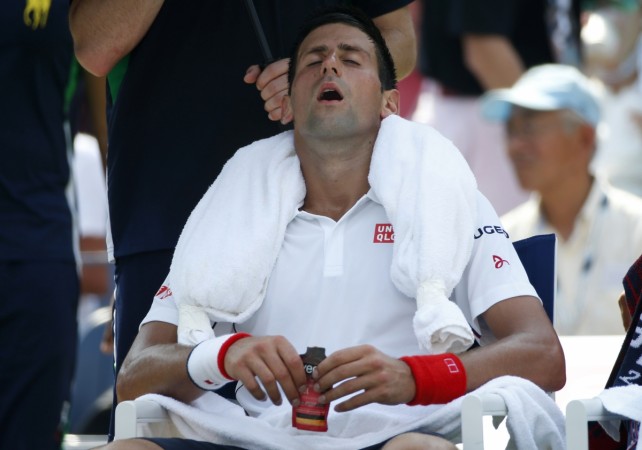 India's Davis Cup coach Zeeshan Ali says India's chances of a surprise victory in the World Group playoff against Serbia have gone up with world No.1 tennis player Novak Djokovic pulling out.
If India win this tie, they will be back in the elite World Group.
Djokovic decided to skip the event, which is scheduled to take place in Bangalore from 12-14 September, citing fatigue after his shock defeat to Japan's Kei Nishikori in the US Open semifinal.
Serbia's non-playing captain Bogdan Obradovic confirmed that Djokovic would not be going over to India because of fatigue and also to be with his wife Jelena as they are expecting their first child.
"Djokovic's had created so much excitement all around, there was such a buzz," Zeeshan told IANS from Bangalore.
"This is the right kind of preparation for the team and the morale is high and everyone is excited about the tie. We can spring a big surprise."
Though India's chances would have suffered had Djokovic made himself available, Zeeshan Ali feels that top-ranked players need to come to the country for the sport to get a boost.
"It would be great for the sport in this country if top world class players come here and play. It generates more interest in young tennis aspirants and creates a different kind of excitement. You get to see them live instead of watching them on TV and that can be very highly inspiring for the enthusiasts," said the former Davis Cupper and Asian Games gold medallist.
The Indian coach, whose father Akhtar Ali also played Davis Cup and coached the India side, is happy with the team's preparation and is not too concerned with India's top singles player Somdev Devvarman's down slide in the ATP rankings.
Somdev, who won the singles and the men's doubles gold at the 2010 Guangzhou Asian Games in China, has slipped to 143 on the ATP charts from a healthy 100 on return to the circuit after missing the entire 2013 following a shoulder surgery.
"Our preparation is going well with the team being injury free. Somdev practiced in the US and reached the final of the Beijing challenger. I'm not too concerned about his form, he had a few very tough draws, he will definitely bounce back," Zeeshan said.
Is this the right time for Somdev, as some feel, to dump singles and take to doubles like compatriots Leander Paes, Mahesh Bhupathi and Sania Mirza, who went on to become Grand Slam winners?
"I feel he still has a couple of more years of singles, he definitely has the ability to do well on the Tour, though he is right judge of his own game, and if he feels he can return to the top 100, then we should support him," said Zeeshan.
The 29-year-old Somdev also came in for some stick after pulling out of the Asian Games, but Zeeshan backed his decision.
"It's not a question of loyalty and passion for the country because all these players are highly motivated to do well for the country, but rather it is a question of priority. It is his personal decision and we should leave it at that."
Zeeshan recently became the first Indian tennis player to receive the Dhyan Chand Award.
"I should have got the Arjuna Award years ago, so it came as a big surprise, but nevertheless I am very honoured. I still feel I have a lot to contribute to tennis and I hope I can do much more for the sport," he said.