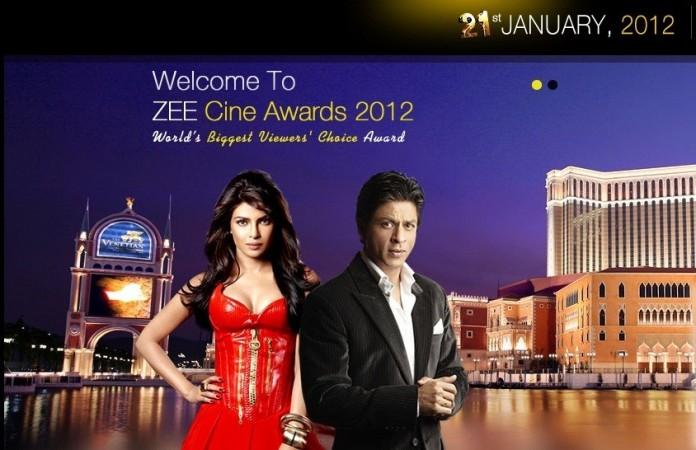 Bollywood actors Priyanka Chopra and Shah Rukh Khan are going to co-host the 2012 Zee Cine Awards. This will be the first time the two leading stars of the film industry will host the ceremony together. The event will be held on the island of Macau, on Saturday.
Reports say Priyanka and Shah Rukh went through several arduous rehearsals to ensure the success of the function, which also marks the former's first time hosting the awards.
"Boarded!phew..made it by the skin of my teeth! But here goes. hosting for the first time. hope all the rehearsals with @iamsrk and team pay off", Priyanka wrote on her Twitter page, just before leaving for Macau.
She further tweeted: "Priorities for this trip..family time..shoot for a commercial today and rehearsal tonight!!And that's just today! Jeeeeepers!"
She also uploaded a photograph of her journey to Macau.
"Ferrying to Macau.. The ocean calms me.. I'm so excited my parents r coming..dad gonna hang out with me after so long.." she tweeted on Friday.
Shah Rukh also tweeted, while aboard a flight from Mumbai.
"Off to Macau for zee awards. Been rehearsing with @priyankachopra, writers & dancers for hosting. Hope it all falls into place," he tweeted.
"Onto Macau. Lots of work to do.hope I catch some sleep on the plane.@FarOutAkhtar with me on flight.mite play sum trivial pursuit..no sleep" Shah Rukh added.
The 46-year-old star later reached the venue of the awards ceremony, along with his wife, Gauri Khan and director Farhan Akhtar.
Meanwhile, amidst rumors of a recent affair with Shah Rukh, her co-star in the recently released "Don 2: The King is Back", some sections of media reportedly spotted her leaving Shah Rukh's offices at 3 a.m.