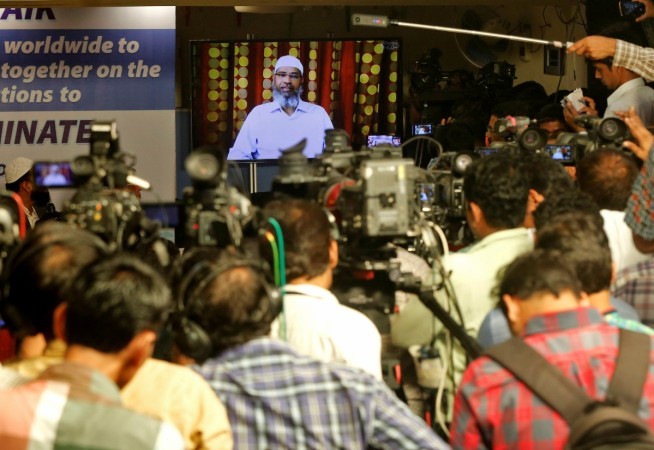 The Mumbai Police has said, in its 71-page report on Mumbai Islamic preacher Zakir Naik, that his Islamic Research Foundation (IRF) lured the youth to convert to Islam by paying them anything between Rs. 25,000 and Rs. 50,000. His speeches, sermons and literature were found to be in favour of terrorism and "influencing vulnerable minds."
The Special Branch (SB) of the Mumbai Police prepared the report that was submitted to the State Home department by the Mumbai police commissioner on Monday evening.
The probe focused on Naik's speeches that were available on the internet, an officer told the Indian Express. No one from the IRF or the NGOs that Naik operates have been questioned regarding the matter so far.
"It will not be wrong to say that Muslim youths are being attracted towards the ideology promoted by Dr Zakir Naik, or his religious teachings have fanned religious sentiments of the Muslim youths... Prima facie certain comments by Dr Naik justify terrorists and terrorist activities of some organisations," the report said.
"By way of his oratory skills, Dr Naik creates prejudices in the mind of people by asserting how other holy books of the other religions and their beliefs are wrong... His statements are against religious harmony and peaceful coexistence... His focus is on to prove how Islam is the only supreme religion...He spreads religious animosity. Once listeners are attracted towards him, he justifies terrorism and fans religious sentiments of Muslim youths with the help of his oratory skills," the report added.
"Some statements are certainly against religious tolerance and promote chauvinism and Islamic supremacy. Hence, prima facie it is certain that his speeches should be banned in Maharashtra," it stated adding that the judiciary must be brought in to understand whether his speeches require a ban.
The report also mentions that the two NGOs run by Naik – IRF and IRF Educational Trust – must be investigated since they are under the Foreign Contributions (Regulation) Act 2010.
A statement released on behalf of Naik denied all allegations as false and baseless and said that IRF does not promote conversion to Islam, according to local media reports.
"Dr Zakir Naik or IRF has not received any notice from the MHA or any governmental agency as of now, and hence we're unable to comment on it. IRF is a research body that promotes greater awareness of Islam and its tenets...Dr Zakir Naik emphasises on teachings of Islam, which is not unconstitutional, and preaching and propagating one's religion is allowed by Article 25 of the Indian Constitution," the statement said.
The Maharashtra government had ordered an inquiry into Naik's speeches after reports revealed that he inspired a couple of terrorists involved in the attack on a cafe in Dhaka.