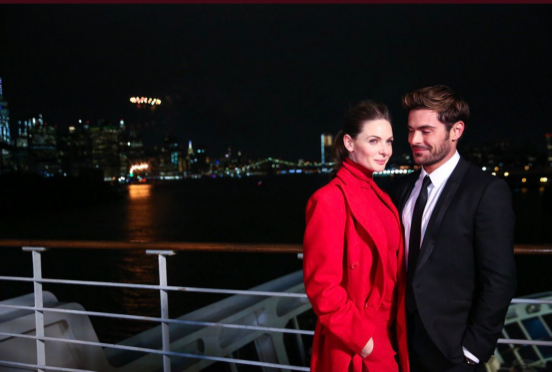 Zac Efron and Rebecca Ferguson will be seen sharing the screen space in Hugh Jackman starrer The Greatest Showman. Although the two stars' characters are just friends in the movie, in real life the actors could be more than just friends or at least that's what a few fans would like to think.
A few reports began circulating suggesting that the Baywatch star could be eyeing the Mission: Impossible star after he shared a couple of stunning pictures with Ferguson on his social media platforms.
Also Read: Are Baywatch co-stars Zac Efron and Alexandra Daddario secretly dating?
He first posted an adorable picture of him with the 34-year-old actress from the sets of the upcoming movie with the caption: "A pic is worth a thousand words. Only ones I can think of now are: wtf were u thinking dude?! Look at her!! #GreatestShowman #RebeccaFerguson."
But fans now believe (or now want to believe) that the Baywatch star has fallen head-over-heels for the actress when he took to Twitter and shared another endearing picture of him with Ferguson. Looking at the beautiful star, he captioned the photo: "I finally looked... #GreatestShowman" with the heart-eyed emoji before the hash tag.
This was enough to get the tongues wagging and fans went gaga. Many began "shipping" the two actors. However, there were also others who shut down these rumours and began calling this a clear-cut marketing gimmick.
Fans pointed out that only recently there were rumours that he and his The Greatest Showman co-star Zendaya were dating and suddenly, the focus has shifted to the Swedish actress.
"Its the same b*llsh*t when he did Baywatch, eyeing up his costar. Why does every photo have to mean more than just a friendly working relationship, ugh," pointed out an online user. "They have a movie coming out and suddenly the rumour mill starts buzzing? That's how I spell marketing," adds another.
"HAHAHA they're not dating, it's a photoshoot and they were supposed to look at each other, but zac never did, and when he finally looked, she didn't," a fan explained of the picture he recently shared with Ferguson.
"And this is how Zac Efron sells movies," jokes another. Previously, Efron's dating rumours made headlines when he was "romancing Alexandra Daddario," his Baywatch co-star.
While we wait for the couple to address these rumours, Efron's on-screen love Zandaya recently revealed that during the filming, the on-screen couple body-slammed during a particular scene. Zendaya, who recently appeared on The Tonight Show Starring Jimmy Fallon, described the incident and shared the video.
"We're holding these two ropes and we're together and then we swing apart from each other, they lift us off the ground, and of course that momentum of us swinging as far as we can go away from each other — we come back together and we're supposed to grab on to each other with the other arm and we're supposed to begin this swing... that's really beautiful," Zendaya said, describing the physical aspects of the stunt. "But if you don't catch each other —" then SPLAT.
Watch the video here:
The Greatest Showman releases on December 20.