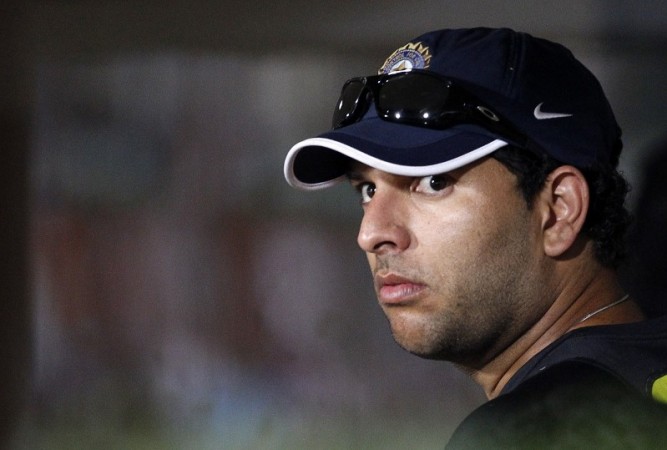 Indian cricketer Yuvraj Singh's father, Yograj Singh, is reportedly suffering from throat cancer.
Doctors at a New York-based hospital have successfully operated on the former Indian fast bowler to remove the tumour from his vocal chords. The Punjabi actor-director is recovering fast, The Indian Express reported.
"Thanks to the Almighty, the tumour was removed about 20 days back and he is recovering now," Yograj's wife Satveer Kaur, told Indian Express. "He has been advised not to talk till he has recovered completely."
The 56-year-old, who found out about his cancer a few months ago, was undergoing treatment in the US when he suddenly developed some severe complications like breathlessness and coughing. Doctors had no other option than conducting an emergency operation.
"He would often complain about throat pain and cough. But he never let us know what was going on. He would take medicines and be fine for a while. But when the problem got worse, he had to tell us," Satveer, added to the newspaper.
Yograj, who started his cricket career with the 1967-77 seasons, had to end his profession with an eye injury during the 1980-81 seasons in New Zealand. After retiring from cricket, he tried his hands at acting and has since appeared in nearly 150 films, including the Bollywood hit "Bhaag Milkha Bhaag."
Apart from Yuvraj, the veteran has another son with his ex-wife Shabnam Singh, named Zoravar Singh.
The Singh family has been undergoing a tough period lately. The news comes shortly after Yuvraj's battling with cancer. The 32-year-old cricketer, who was diagnosed with a rare germ cell cancer in 2011, got completely cured after receiving treatment at the Cancer Research Institute in Boston and Medicine Facilities in Indianapolis, Indiana.
Doctors said that Yograj does not require chemotherapy, and will be completely cured with this surgery.
Though Yograj is still under the observation of the doctors and restricted from straining his vocal chord, he is keeping in touch with his family and loved ones including cricketer Manan Vohra through Whatsapp. Vohra said that he was extremely happy when he received a message from his mentor. "It was wonderful to get his wishes even when he is unwell. He is my Guru, I wish he is back to Chandigarh fully fit soon, so that I could share with him my IPL experience," he told The Indian Express.
Yograj will return India after recovering completely.