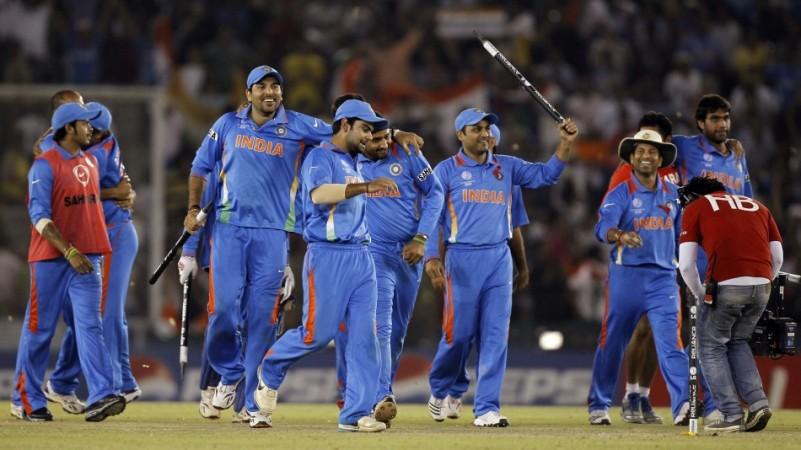 April 2, 2012, marks India's first anniversary of winning the ICC Cricket World Cup. The jinx of not having won the World Cup broke when a mixture of both young and experienced players in the team got the cup for India after about 28 years. Team captain Mahendra Singh Dhoni's winning strike off the bowling of Sri Lanka's Nuwan Kulasekara continues to be cherished till today by every Indian.
It was Yuvraj Singh, adored by millions of cricket fans and the man of the series in the ICC World Cup 2011, who made his wonderful contribution in advancing team India to lift the World Cup. Yuvraj Singh shared his thoughts on the first anniversary of that momentous night.
Singh, undergoing treatment for a rare but curable cancer in the United Sates, posted a video on YouTube on the occasion.
"All you can remember is flying colours of the flag, Wankhede stadium in joy and an Indian dream turning into a reality. It was a great moment in history because winning the World Cup was everything to us and especially to do it for Sachin Tendulkar," he said.
Yuvraj also said that he had exceeded his own expectations in World Cup performance. "I Couldn't have asked for anything better. I didn't expect myself to play as well as I did in the World Cup. I was coming with not great form and I wasn't timing the ball how I wanted to."
Revelling in the past joy, Yuvraj said that it was a very special moment for him and everyone in the team. He added that he was not in good form during the World Cup series, however, Tendulkar's and Zaheer Khan's motivational lines pushed him to do achieve that something special.
"Sachin told me that you will matter when it matters the most. That is a very special thought, it remains with me. Zaheer Khan also told me in Bangladesh before the start of the World Cup about me doing something special in the tournament. That time I was going through a really bad wrist injury," said the young cricketing star.
In 2011, Yuvraj Singh bagged four man of the match awards in the World Cup. He took 15 wickets and batted over 350 runs.
Acknowledging his statement about Tendulkar, Singh added, "I remember having a picture of him and me together which I have put in my locker. I used to have a look at that and go into bat. He is my inspiration."
Singh expressed displeasure that he was diagnosed with cancer when he was at the peak of his career. Meanwhile, he said he was happy that the problem was detected at the early stage.
"Only 20 percent of people survive cancer in today's world. So very happy that I got a nod from my doctor," said visibly fitter and confident Singh. He enthusiastically added that he is doing good and looking forward to playing for India.