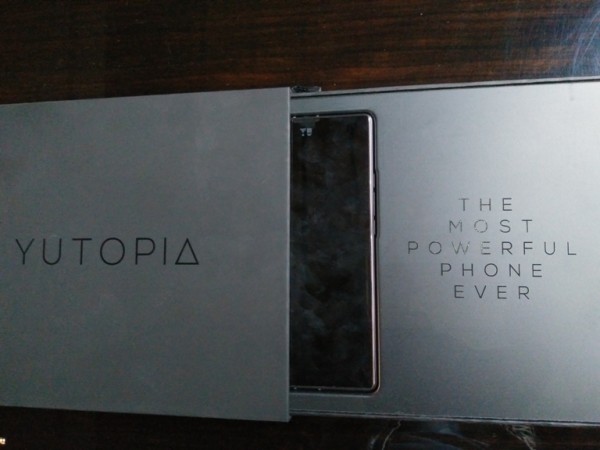 It has been a suspense-filled few weeks for YU fans as they eagerly anticipated the official launch of YU Yutopia in India. After weeks of campaigns and marketing, YU finally launched its high-end flagship smartphone, Yutopia, in New Delhi on Thursday.
After we covered the Yutopia's launch event live, we spent ample time with the handset to review its design, performance and camera.
YU certainly made its fans happy by meeting everyone's expectations with Yutopia's high-end specs. But is it worthy of the "world's most powerful phone" title as YU claims it is? We will find out the answer to this in our detailed review, when we put Yutopia through a series of tests for performance, camera and battery. Until then, here's our first impressions about Yutopia.
Display and Design
YU started teasing Yutopia for its full metal body and it does justify the flagship title. It is extremely sleek measuring just 7.2mm and has 40 percent thinner antenna bands compared to iPhone 6s series. The metallic surface on the rear side of the device feels smooth and is rounded all around.
Yutopia follows the company's signature symmetrical design and features 3-element keys with complete Aircraft grade Aluminium unibody. The rear side of the phone, with its protruding camera, draws similarities to older YU phones but the metallic finish of Yutopia is a key difference. To further enhance the premium look, YU has used PureBlack Touch panel, which gives a clear black look when the screen is off.
The 5.2-inch display by Sharp has a 2560 x 1440 pixels resolution with eye-popping 570ppi along with OGS TP and Full lamination coating to provide better readability in sunlight.
Overall, the use of metal combined with 2K screen adds value to YU's first flagship. But the handset's smooth finish makes it slippery, requiring a little extra care from its owner. YU's assurance comes in handy at this point where it says the metal unibody is 90 percent stronger than a polycarbonate body.
Performance
Referred to as a real beast, Yutopia packs topnotch specifications provided by industry's leading experts. Yutopia is powered by 64-bit 2.0GHz octa-core Qualcomm Snapdragon 810 chipset based on 20nm architecture with X10LTE modem that enables up to 450Mbps speeds on download. The processor is combined with Adreno 430 GPU and impressive 4G DDR4 RAM, which is currently the highest standard in any smartphone, delivers quality gaming and multi-tasking experience.
For the brief time we used the phone, we did not experience any lag. The OS configuration combined with Cyanogen 12.1 OS based on Android 5.1.1 Lollipop elevates the whole user experience. The custom ROM offers extreme customisations, shortcuts, privacy and security to its users.
We are yet to run benchmark tests on the Yutopia to compare the scores with other devices to see how it fairs against other flagships in the market.
Camera
YU had already demonstrated Yutopia's camera capabilities during its #YutopianJourney with the MotoGrapher. After using the smartphone's camera for some quick shots, we were quite impressed. Yutopia features a 21-megapixel Sony IMX230 sensor with 77.3-degree wide-angle lens and helpful add-ons like PDAF, OIS and Blue glass tint. Daylight shooting undoubtedly presented with great results, samples of which we will share in our full product review.
On the front side of the device, there is an 8MP snapper with 5P Largan lens for some good quality selfies.
Low light imaging also returned good results. The images in dim-lit conditions have detail with minimal noise. Users can also take advantage of ChromaFlash to bring out the true colours of the subject. We are sharing some sample images shot on Yutopia below but Yutopia's detailed review will include a wide variety of photos under different conditions. We also noticed some disturbance in the image while shooting the image facing the sunlight.
Fingerprint Scanner
One of the key features of Yutopia is its fingerprint scanner, which works more than just a security lock for your device. Placed at the rear end of the device, the fingerprint sensor is programmed to automatically detect your finger when you press and hold the scanner. It will directly redirect the user to an unlocked home screen post authentication. This functionality resulted in unintended waking up of the screen when a slight force is applied on the sensor. Simply moving the finger around the sensor did not trigger the fingerprint function.
Selfie lovers, however, can use the fingerprint scanner as a snapper with a simple tap.
Battery
Despite the ultra-thin profile, Yutopia manages to squeeze in a 3,000mAh battery. Courtesy of the Qualcomm processor, Yutopia comes with Quick Charge 2.0 technology to quickly recharge itself. And the ultra-low power sensor core limits excessive drain despite running multiple sensors such as G-sensor, L-sensor, P-sensor, 6-axis Gyroscope, Electronic compass, Barometer, finger print, Hall Sensor on the device.
Around YU
YU also unraveled the special surprise it had in store to launch alongside Yutopia, Around YU. It is an integrated platform for various services all in one place. Instead of downloading and managing multiple apps for things like food, travel, shopping etc, Around YU in Yutopia lets users do everything in one place.
Yutopia users can access Around YU by swiping right on the home screen.
Pricing, availability and offers
With all the specs and features revealed, YU moved on to the final bit -- pricing. Yutopia is available in India for Rs. 24,999 exclusively on Amazon India. The stocks are expected to be limited and shipping for pre-ordered devices starts 26 December. To make it more appealing to buyers, YU announced launch offers where customers get assured upgrade to Yutopia 2, easy EMI options and Rs. 1,000 cash back for SBI card holders.
Photos:
Below are the photos of the Yutopia smartphone: