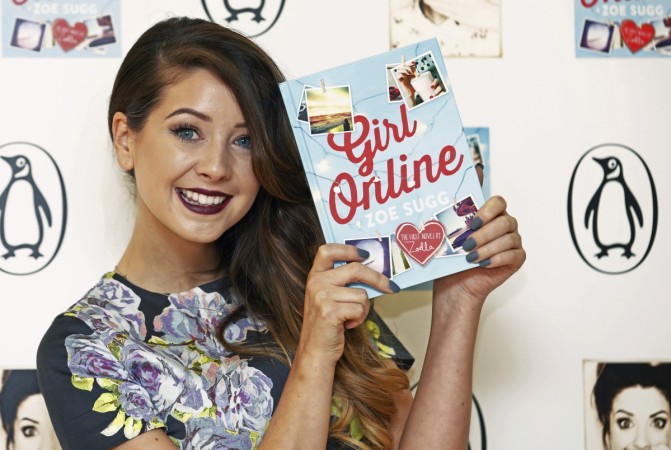 Outselling the likes of J.K. Rowling and Dan Brown, YouTube star Zoella's debut book "Girl Online" has become England's fastest-selling book of 2014 breaking British sales records with more than 78,000 copies being sold in the first week itself.
Zoe Sugg AKA "Zoella" has successfully beaten Jeff Kinney's newest "Diary of a Wimpy Kid: The Long Haul" off the top of the chart.
The 24-year-old beauty blogger's book was published by Penguin on 25 November. In response to the news, Zoe said: "It's such an amazing feeling. I'm so grateful to everyone who has bought a copy of Girl Online. I love that so many of my viewers are enjoying the book! This year has been so exciting and this for sure is the icing on the cake."
Zoe, a native of Lacock in Wiltshire, started her blog and YouTube channel when she was just a teenager in 2009. She shared her opinion on subjects related to beauty and fashion including thoughts and advice on certain issues like cyber-bullying or how to handle anxiety or self-esteem problems, the Guardian reports. She became a sensation soon. At present, she has more than nine million YouTube subscribers and a large number of Twitter followers. Her Twitter address is @ZoZeeBo.
Extent of her popularity can be determined by the fact that recently Bob Geldof invited her to sing alongside 'One Direction' and Rita Ora on this year's Band Aid song for charity. Addressing her 2.59 million Twitter followers, Zoe said: "I'm legit blown away by this. I never in a million years thought that so many of you would pick up a copy of Girl Online. Almost wanna cry."
Francesca Dow, Penguin Random House children's managing director, said: "We always knew that the captivating story of Girl Online, and Zoe's fantastic ability to connect with and entertain her audience, had the potential to be an extraordinary combination," the Belfast Telegraph reports.
She signed a two-book deal this year with publishing giant Random House.