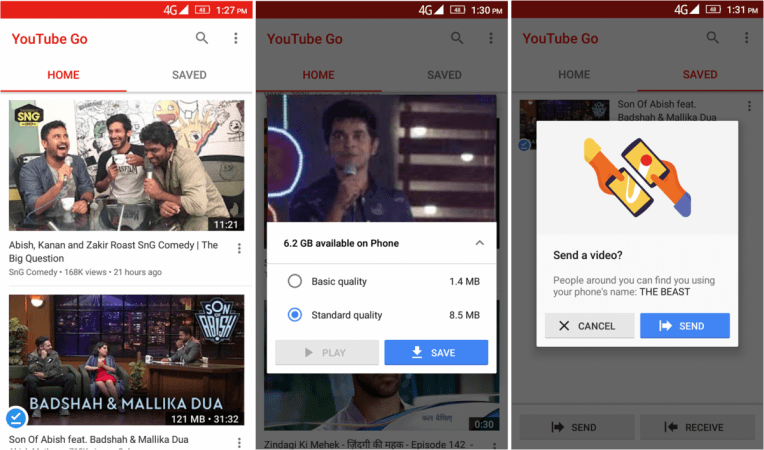 Google has launched a new YouTube app, called YouTube Go, in India which is expected to give users more control over data usage. Why? Because video consumption in India is predicted to surge in line with the advent of inexpensive data plans, and Google believes that YouTube needs to be re-imagined for that to satisfy users while the internet signals in the country continue to be spotty.
Although available for download on the Google Play Store, YouTube Go is still in beta stage. Once it gets the green signal, it will be released in other emerging markets. But till then, the company will analyse whether the app's features find any traction among consumers in India.
The home screen on the YouTube Go app features trending and popular videos based on the user's area. The recommended videos will be compiled based on the user's preferences.
YouTube Go is an offline-first app, which means that users will be able to save a particular video to watch it offline or when they are on a slower network. Users, however, can save a video only if the video's owner allows it to be saved or shared.

The app also helps users monitor their data usage by allowing them choose between the basic and the standard quality of a video before streaming or saving it. YouTube Go also tells how much memory is available on a phone so that users don't any snag while trying to save a video.
What makes YouTube Go even more user-oriented is that it shows a preview of a video when the user taps on its thumbnail. This feature will really make a lot of sense for those who want to know what a video is all about before deciding whether to watch it.
In addition, users can also share their saved videos with anyone using the YouTube Go app without using any data. Even if the phone is not connected to the internet, users can send and receive videos instantly using hotspot, which automatically gets activated after the user taps on the SEND button under the SAVED tab, and then selects a saved video to send.
Being a beta release, the YouTube Go app could be unstable at this point of time. However, the developers will improve the app based on users' feedback.
"While the app is in its beta release, we'll continue to listen to your feedback and improve the app before launching more broadly. We'll also be holding several activities in Udaipur over the upcoming weeks to glean more insights from users on the ground," YouTube said in a blog post.
To know when YouTube Go is fully ready, users can sign up at youtubego.com/signup.