That Apple has been struggling to meet the demand for iPhone X is no secret, but a report in the Financial Times claims Apple supplier Foxconn has been employing thousands of teenage "students" to assemble the device, and that the students are being forced to work overtime to get the job done.
The report cited six high school students, who told the publication that they worked 11 hours a day on a regular basis after school to assemble the device, which is illegal for student interns under Chinese laws.
The youths, all aged between 17 and 19 years, were told to work at Foxconn's assembling unit in Zhengzhou, China, for three months by their place of study, Zhengzhou Urban Transit School, to get "work experience in order to graduate."
One of the students told the Financial Times: " We are being forced by our school to work here... The work has nothing to do with our studies." The student also claimed to have assembled up to 1,200 iPhone X cameras a day.
Apple and Foxconn have acknowledged that they had discovered cases of student interns working overtime, and that they were taking remedial action. However, both companies also claimed the students were not forced to work beyond the legal hourly limits
"We've confirmed the students worked voluntarily, were compensated and provided benefits," Apple said. "But they should not have been allowed to work overtime."
In its statement, Foxconn said: "All work was voluntary and compensated appropriately, but the interns did work overtime in violation of our policy."
Foxconn also said its internship programme was "carried out in co-operation with local governments and a number of vocational schools in China." The education ministry of the province in which these students studied and worked had asked local vocational schools to send students to Foxconn, according to one of Financial Times' sources.
Meanwhile, this isn't the first time that Foxconn and Apple have come under scrutiny over allegations of violating labour laws.
About five years ago, three other Foxconn plants in China were found in breach of numerous health and safety regulations, including exceeding working hours, according to a Guardian report.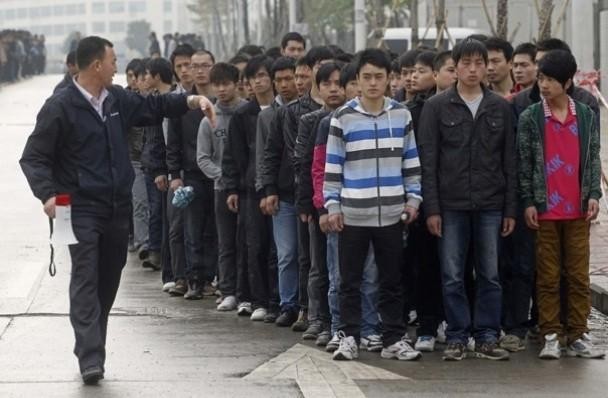 "When Apple's production demands it, Apple completely ignores the labour standards they have set. Apple allows factories to make workers put in overtime hours without restriction... and for student workers to work night shifts and put in excessive overtime hours," Li Qiang, Executive Director of New York-based non-profit China Labour Watch, was quoted as saying in the Guardian report.
After the lukewarm response to the iPhone 8 and iPhone 8 Plus from Apple fans across the globe, Apple bet big on its "super premium" iPhone X, which is the 10th Anniversary edtion device.
But due to indefinite production delays and difficulty in assembling the advanced facial recognition software and 3D camera, coupled with the unprecedented pre-orders for the iPhone X, Apple has been struggling to meet the demand despite employing more than 300,000 workers at its assembly plants in China.