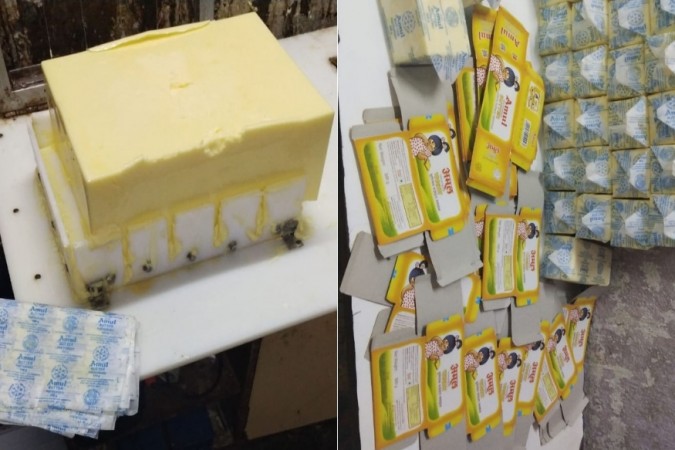 The Mumbai Police has seized 1,000 kg of fake Amul butter from Bhayander area of the city and arrested five members of a gang that was involved in making the spurious food product. The police raided their hideout and saw the butter being filled into Amul packaging.
A team of Mumbai police led by Assistant Superintendent Police Atul Kulkarni busted the hideout of the gang and seized both the butter and Amul packaging from the premises, according to Times Now. The police team is trying to find out how these men got their hands on the packaging being used by the Amul.
Disastrous cases of food adulteration are common in India. The most recent is the incident in which 15 people died and hundreds of devotees fell sick after eating tomato rice at a temple in Chamarajanagar, about 125 km from Bengaluru.
The Food Safety Standards Authority of India (FSSAI) had said in its report that out of 49,290 samples of food items that were tested, one-fifth were found adulterated or misbranded.
The FSSAI also said that milk and its products are the commonly adulterated foods in India as per a study it conducted in 2012.
Mindless profiteering
Some common adulterans (unwanted substances) added to the milk and its products are chalk, water, caustic soda, skimmed milk and oil.
Butter, according to FSSAI, can be made with cheaper oils or mixed with water to extract large quantities from a small amount of milk. The other commonly adulterated foods in India are tea, coffee, wheat, rice, vegetables, sweets and pulses.
Although food adulteration is a punishable offence, small-time businessmen and vendors are often found mixing adulterants in foods. The target consumers are often from the lower economic sections of society who are tricked into buying cheaper products, risking their health.