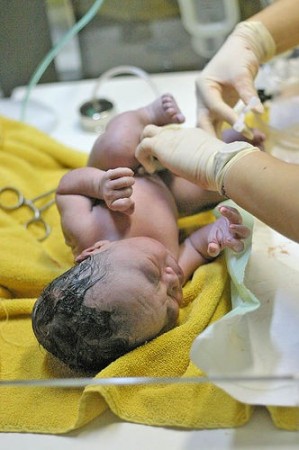 In a shocking, never-before-heard incident, a 12-year-old British girl has given birth to her 13-year-old boyfriend's baby, according to various British newspapers.
By giving birth to a 7lb (3.1kg) baby girl last weekend, the girl, who is not even a teenager yet, has now become the UK's youngest mother, The Sun reports.
According to the report, the girl, who has not been identified due to legal reasons, became pregnant at 11, shortly after being in a relationship with the boy, who reportedly lives near her family home in north London. She became pregnant when she was still in primary school, Metro reported.
The parents have now been recognized for having the lowest combined age of any British parents in history, the report stated.
Meanwhile, The Sun reported, citing a source close to the family, that the young pair had been in a deep relationship over a year, and that they were "totally in love". They are now planning to bring up their newborn daughter together.
"Both sets of grandparents are incredibly supportive. It's a very difficult situation because the parents are both so young-but their families are right behind them," the source was quoted saying.
"The baby's mum and dad have been in a relationship for more than year, so this isn't a fleeting romance. They intend to stick together and bring their daughter up together," the source added.
The source further stated that the 12-year-old is obsessed with the boy and the two were "very into each other". The girl sees this relationship as true love and they intend to get married one day.
The entire family seems to be holding the record of being the 'youngest'. The girl's mother is one of the youngest ever grandmothers herself, at 27, it is reported.
Meanwhile, the young and proud parents have even posted a picture of themselves with their daughter online. The young mother is hoping to return to school in September.
(Ed: VP)