A couple of old videos of Ranveer Singh and Anushka Sharma on Karan Johar's Koffee with Karan show have resurfaced on social media, for which the actor has been facing a lot of flak and criticisms.
The first video shows Ranveer saying something to Anushka that many found to be extremely inappropriate. In another video from the same show, the Padmaavat actor made a comment that involves Kareena Kapoor Khan, and there again he is seen saying something that did not go down well with many.
In the first video, Ranveer joked to Anushka that he is there to pinch her, and apparently confused Anushka is then seen hitting the actor in a friendly manner, and told him not to talk to her like that.
In another video, Ranveer describes how he was stumped by Kareena's beauty when she used to come to a club for swimming, and he was a "kid". "I went from child to boy", he said while describing his feelings to see Kareena swim.
KJo then with a smile on his face said Kareena is like his sister, and he could have been offended by that remark. Ranveer then added that he was just telling his childhood feeling.
Both the remarks from the actor appeared highly misogynistic to many who have been sharing the videos and slamming Ranveer.
Not just Ranveer, some are even bashing Karan for laughing at Ranveer's "misogynistic" remarks.
See some of the reactions below: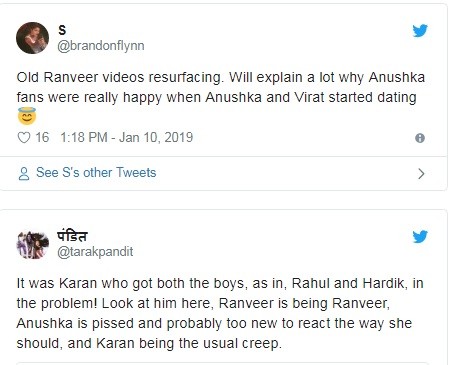 Old Ranveer videos resurfacing. Will explain a lot why Anushka fans were really happy when Anushka and Virat started dating ?

— S (@brandonfIynn) January 10, 2019
So much overreaction for an edit from an interview ...Atleast Wait for the entire Filmfare Interview before bashing

Also isn't the KWK thing ancient. He has acknowledged he got carried away. Kareena is cool with him. Saif is cool. Who are you'll on twitter to judge

— Cheeky Ranveer Fan (@tongsincheek) January 10, 2019
Ranveer was too immature at that time...clearly seen in his behavior?n that's y anushka always maintained a distance from him

— srija_1310 (@1310Srija) January 10, 2019
Recently cricketers Hardik Pandya and KL Rahul had appeared on Koffee with Karan, where the former made some comments on women, which again irked many people. The controversy got so big that the two cricketers received show cause notice from BCCI. Later, Hardik apologised for his remarks.