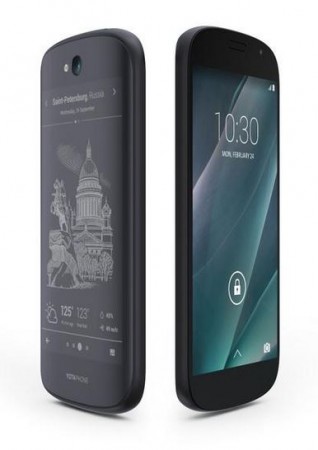 Russian Smartphone OEM YotaPhone is set to launch yet another dual-screen smartphone. In a tweet the manufacturer has expressed that they are about to unveil their second Android handset, YotaPhone 2.
While they kept mum about the specifications of the new phone, they mentioned they are about to unveil the phone in London on 3 December. The event will be on invitation basis. The image appended with the tweet shows the latest device will also feature two displays instead of one. Alike its ancestor, the YotaPhone 2 will also boast an e-ink display, usually seen in Kindle and a few other e-book readers.
The reason for featuring an e-ink screen is they have better readability and cause less strain to the eyes. They also consume less power than the LCDs. So, the manufacturer's logic is simple - you can actually use the phone, see texts and notifications without straining your eyes too much, and get a better battery life.
People have different opinions on featuring two screens instead of one. Few think it's cool, while the sceptics think it increases the cost unnecessarily and would lead to taking extra care of the device.
According to sources, the latest YotaPhone will boast a 5-inch AMOLED screen with good visibility. A Quad-core Snapdragon 800 processor would also be seen with 2GB of Ram memory. Instead of featuring the previous versions 4.3-inch e-ink screen, the manufacturer will opt for a bigger 4.7-inch e-ink screen. The YoutaPhone2 will also feature an 8 MP front camera with LED flash and a 2 MP primary camera on the front. The internal storage capacity would be 32 GB and will be powered by a 2550 mAh li-ion battery.
The YotaPhone is available in India through few e-retailers at a retail price of Rs. 23,499. Though there are no hints from the manufacturer, we expect the YotaPhone 2 will be available between Rs. 20,000 - 25,000. But it's better to wait for 3 December, when YotaPhone will unveil the phone.
YotaPhone recently got big publicity when Russian President Vladimir Putin gifted a YotaPhone to his Chinese counterpart Xi Xinping during their meeting in Beijing at APEC, earlier this month.