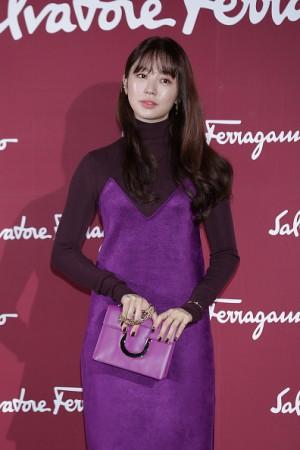 Korean television artist Yoon Eun Hye made her public appearance on October 31 for MBN's upcoming drama "Love Alert" directed by Jo Chang Wan. The actress attended the conference along with other actors like Chun Jung Myung, Han Go Eun, Joo Woo Jae, Block B's P.O, and Lee Hye Ran.
Yoon Eun Hye made headlines in 2015 for winning first place on Chinese TV fashion program titled "Goddess' Fashion" for styling a dress along with a designer. She came under severe criticism soon after for plagiarizing the design of Korean stylist Yoon Choon Ho.
Stating the above controversy the actress said, "Although I did give an apology before, I want to apologize again here for disappointing many people". The criticism came hard on Yoon as she stated that she feels nervous and excited about starting another project after a hiatus.
She further stated that she was worried of causing inconvenience to others and tries to make it fun while shooting on set. Quoting Yoon, "I think while working on this project, my heart was pounding with excitement. Although I am lacking a lot, while I thought about what I'm truly good at, I've come to join the romantic comedy 'Love Alert'."
"Love Alert" is based on a popular web novel of the same name dealing with a fake relationship between a successful actress and a renowned doctor. Yoon Eun Hye plays the role of a successful actress while Yoon Joo Jung stars as the hopeless romantic. Chun Jung Myung essays the role of Dr Cha Woo Hyun who is the heartthrob of many women but remains uninterested in dating.
The romantic comedy is slated to premiere on October 31 at 11 p.m. KST and will soon be made available on Viki.