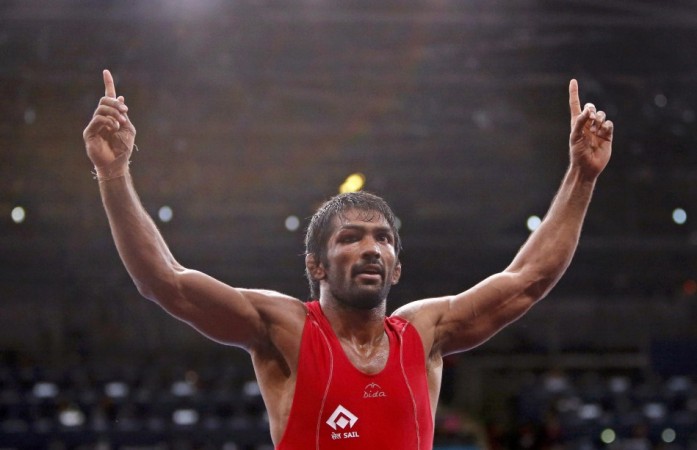 International wrestler Yogeshwar Dutt and shooter Vijay Kumar will be bestowed with India's highest sportsperson award, the Rajiv Gandhi Khel Ratna, for their contribution towards the nation's sports fraternity.
The Rajiv Gandhi Khel Ratna award, which will be given later this year, is accorded ever year to outstanding performers in the sports category. This year's selection committee was headed by Col Rajyavardhan Singh Rathore, 2004 Athens Olympics silver medalist at the shooting event. The selection panel also included eminent sportspersons and sports administrators.
The Government has approved to confer awards upon the sportspersons after considering the recommendations by the committee.
Vijay won the silver medal at the 2012 Summer Games in London after he scored 30 points at the finals of the rapid fire pistol. He thus created a record by being the second Indian after Rathore to have won a silver medal in the shooting event at the Olympics.
Dutt bagged a bronze medal at 2012 Olympics while clinging to the rephange round. He already has four medals to his credit, two of which he won in the Men's wrestling events in 2003 and 2010 commonwealth Games and the rest two medals from the 2008 and 2012 Asian games.
This year the government has also chosen 25 athletes for the prestigious Arjuna award. Cricketer Yuvraj Singh, who will soon make a comeback after recovering from a rare-germ cell cancer, has been picked for the award.
National Sports Awards are given every year to recognize and reward excellence in sports. Rajiv Gandhi Khel Ratna Award is given for spectacular performance in the year under consideration, while the Arjuna Award is given for consistent outstanding performance for three consecutive years.
Apart from a medal and a citation, Rajiv Gandhi Khel Ratna Awardees will each receive a cash prize of ₹750,000 and Arjuna Awardees will each receive statuettes, citations and cash prize of ₹500,000.
President Pranab Mukherjee will do the honors by awarding the nominated athletes at the Rashtrapati Bhawan on August 29.