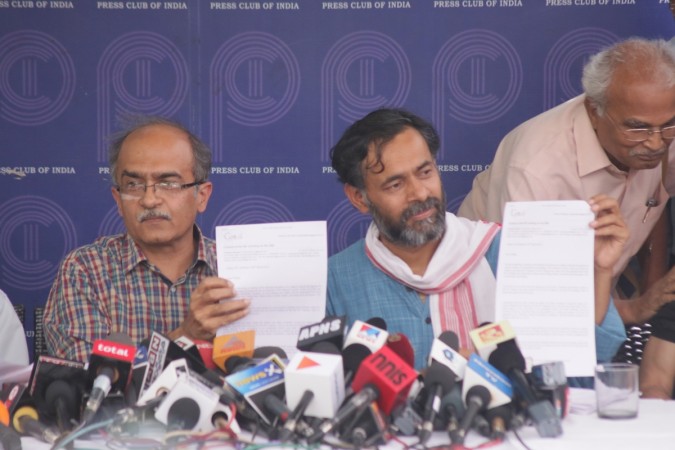 The axe finally fell on AAP rebels Yogendra Yadav and Prashant Bhushan, with the duo being relieved from their National Executive Council duties on Saturday. Their supporters Anand Kumar and Ajit Jha have also been expelled from the body.
Reacting to the decision, Yadav said, "It was scripted. It was a murder of democracy." He also said that he was interrupted in the middle of his speech, and that his supporters were dragged out and beaten up.
The party's National Executive meeting had not even lasted two hours before Kejriwal reportedly left after making an emotional speech, reports NDTV.
Earlier, along with eight of his supporters, Yadav protested outside the meeting venue, alleging that "legitimate members" were not being allowed inside.
"I want to make sure that the proceedings in the meeting are fair," Yadav had said.
On Friday, things in AAP took a turn for the worse with Yogendra Yadav and Prashant Bhushan going hammer and tongs at the Kejriwal camp during a press conference.
Proceedings got even uglier after the telephone sting of a conversation between Arvind Kejriwal and AAP leader Umesh Singh was released in which Kejriwal was heard taking on Professor Anand Kumar and Ajit Jha, supporters of Yadav and Bhushan.
"Yeh kameene hai ek number ke (they are rascals of the first order)," he is heard saying. "In any other party they would have been kicked on their backsides and sent packing."