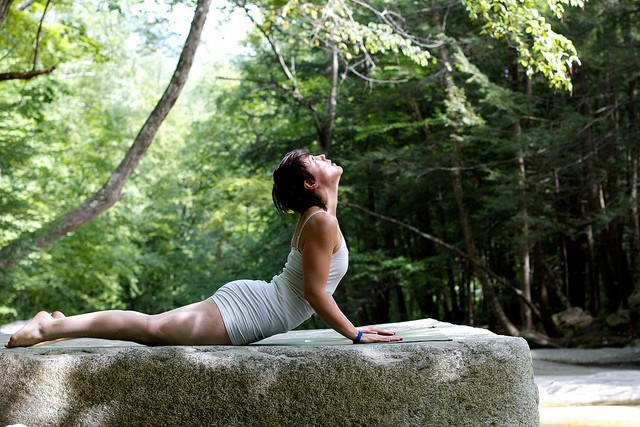 Yoga and other relaxation activities can help treat social anxiety disorders, according to a new study.
Social anxiety disorder or social phobia is the constant fear of being getting judged by other people and feeling embarrassed in front of others, making everyday activities, including attending school and office a difficult business, according to the National Institute of Mental Health. People with social phobia find it difficult to handle situations where they meet new people and normally try to stay away from the public. Spending time with other people and making friends are difficult affairs of such people. Symptoms include sweating, blushing, nausea, stomach getting upset, trembling, confusion, change in voice and heartbeat.
Researchers from the Queen's University in Canada found that exercise and relaxation techniques similar to yoga left a positive impact on people suffering from different types of mood and anxiety disorders and changed the way they perceived the world. Interestingly, these methods also succeeded in reducing negativity and helped them to view the world as less threatening.
As a part of the study, participants were asked to observe a point-light display that presented a human figure through dots. The peculiarity of the depth –ambiguous figure is that its appearance changes from people to people. People who are socially anxious feel these figures are facing towards them, while normal people perceive them facing away from them.
"We wanted to examine whether people would perceive their environment as less threatening after engaging in physical exercise or after doing a relaxation technique that is similar to the breathing exercises in yoga (called progressive muscle relaxation)," Adam Heenan, a Ph.D. candidate in the Clinical Psychology said in a news release.
In the study, people who engaged in exercise or relaxation technique found the figures facing away from them and so less threatening than people who did not engage in any physical exercise. "We found that people who either walked or jogged on a treadmill for ten minutes perceived these ambiguous figures as facing towards them (the observer) less often than those who simply stood on the treadmill. The same was true when people performed progressive muscle relaxation," Heenan explained.
"This is a big development because it helps to explain why exercising and relaxation techniques have been successful in treating and mood and anxiety disorders in the past," Heenan, added.
The study has been reported in journal PLOS one.
Other Treatments that Help Manage the Condition
Psychotherapy
Cognitive behavioral therapy can be highly helpful in making people with social anxiety disorder think that their thoughts are more important than others.
Antidepressants
They include medications like sertraline (zoloft), fluvoxamine (luvox), paroxetine (paxil) and fluoxetine (prozac, sarafem).