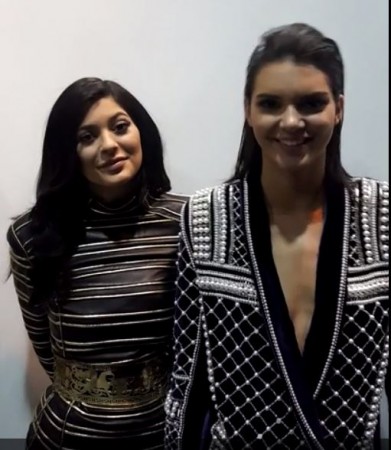 After Kylie Jenner uploaded a picture, in which she is wearing in a swimsuit, on her Instagram account, body-shamers took to the comments section to post nasty messages. Fed up of being targeted, Kylie gave them a fitting reply.
The instagram picture showed her in a risqué black cut-out swimwear, which she had teamed up with her favourite Tom Ford lace-up thigh-high boots, inherited from elder sister Kim. She took the picture as her aide was putting final touches to her make-up. She captioned the picture as "behind the scenes", and after a while added, "Yes, I gained weight there I said it so u don't have too."
After some time, she quickly removed the last part of her caption, but it was an eye-opener for her fans as to what insecurities she might be going through. It isn't easy to become famous at such a young age; and Kylie is not only famous, but she also has to match up to the Kardashians.
The young Jenner also had a bad experience at the Billboard Music Awards in Las Vegas on Sunday, when she along with sister Kendall got booed on-stage as they introduced their brother-in-law Kanye West. But in spite of so much hatred, both the sisters put up a brave front and posed gracefully for the cameras. Watch the video here.
"Everyone always picks us apart," Kylie had said in one of the recent episodes of "Keeping Up With the Kardashian", which just goes to show how much these incidents encourage the insecurities of the reality star and might be one of the many reasons why she has second thoughts about her weight.