Ajith Kumar starrer "Yennai Arindhaal" may have received mixed response from the audience but the Tamil movie has won the hearts of our Kollywood celebrities. Below, read what they said about the film on Twitter.
Simbu Posted
"After a very long time Oru Nalla Thamizh Padam #YennaiArindhaal. Except people who are mentally ill , Tamil cinema audience will love it" and "Thala was terrific with an outstanding realistic performance. Sema mass plus class. Was a real treat for Thala fans".
Read: 'Yennai Arindhaal' Official Review
Read: 'Yennai Arindhaal' First Day Box Office Report
Read: 'Yennai Arindhaal' Audience Review
Anirudh Ravichander Tweeted
#YennaArindhaal - Loved it! Thala and GauthamMenon all the way
Director Atlee Kumar Posted
Yennai arinthal loved it awesome movie Ajith sir was awesome once again a superb film by GVM sir.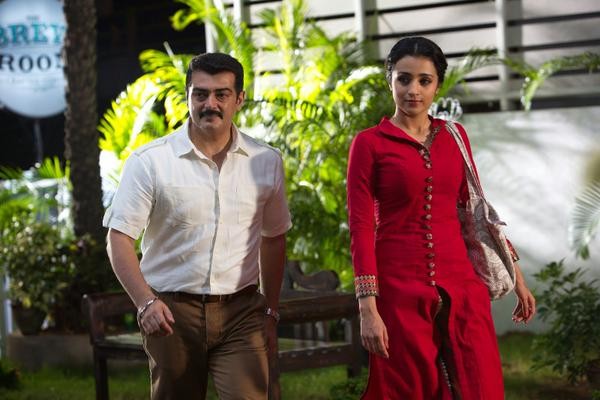 Vikram Prabhu
Watever the age or look #AjithSir carries it all in super style! @arunvijayno1 as the antagonist was perfect match. @trishtrashers was fab!
SUJAVARUNEE-ACTOR Wrote
#GauthamMenon #YennaArindhaal nice us usual ur style movie second half superb & background music was awesome,Sathyadev hemanika scenes cute
@arunvijayno1 way to go & you r right,sky is not the limit!we all support u & we all love u you truly deserve this victory (vaa deal)
@arunvijayno1 hello sir (victor) is rocking in all the scenes,super fit & handsome,best performance specially second half chance illa✌(️1/2)
@trishtrashers (2/2)every girl definitely wud envy u, including me & you always rock my favourite queenlove you always
@trishtrashers (1/2)Hello mam!!! ☺️I really want to tell u that Ethnic wear suits u a lot & you look stunningyou stole our heart hemanika
#thala omg #Ajith sir you always filling your fans hearts, hats off to u for ur stylish & charming look..superb dialogues & screen presence
Varun Manian Tweeted
Enjoyed #YennaiArindhaal. Career topping looks #Hemanika ! Slick action thriller, well done #Victor #Satyadev and GVM
Half way through #YennaiArindhaal. #Hemanika looks stunning...Thank god I proposed before ☺️ @trishtrashers
@trishtrashers hearing about an absolutely spectacular performance Trish. Well done ! Proud of you #YennaiArindhaal #Hemanika
Dhanshikaa Posted
Whatt a gesture of #Ajith sir in ennai arinthal,loved his appearance..Trisha was stunningly beautiful in the film @trishtrashers
Misha Ghoshal Wrote
@shaik1201 I liked the movie nd that's all i can say... Pls go watch the movie ppl... M no1 to give stars or rate Ajith sir's movie
In love with Ajith Sir nd his looks he is sooo handsome nd Arun Vijay u as Victor rocked so happy for u nd Trisha looks sooo gorgeous
Watched "yennai Arindhaal" loved Ajith Sir's acting,look,action loved Trisha Arun Vijay too gr8 job team
Dharan kumar Posted
@dancersatz choreography is amazing. You are sure to reach heights bro. All the very best. Kill it! #YennaiArindhaal
Loved the split screen moments in the film. #SathyaDevIPS steals the show. @arunvijayno1 has hit bulls eye. @trishtrashers looks beautiful
#YenaaiArindhaal was a mass+class out and out @menongautham sir formula. Thala screen presence insane. Delight for every thala fan.
Radikaa Sarathkumar Tweeted
@trishtrashers u were so beautiful in the movie and a lovely dignified, portrayal of today's woman hemanika
Yennai arindhal in the theatre now, well paced, gripping film. Ajith, arunvijay,Trisha &gautam
Dan Macarthur Posted
Watched the film in the cinema great experience snappy movie loved it! Well done to the whole team big thanx @menongautham Legend!
TS Suresh Wrote
#YennaiArindhaal - Split screen scene in second half is one of the best! #GVM used #AdhaaruAdhaaru song lyrics as dialogues! Mass moment! :)
#YennaiArindhaal - ArunVijay's best till date! #Thala & #GVM taken a new route! Mass & class redefined! Blockbuster Hit! Super Happy! :-)
#YennaiArindhaal - Brilliant second half! #Thala nailed it! Anbuchelvan IPS + DCP Raghavan = Sathyadev IPS! Thank You @menongautham Sir! :-)
Half way through #YennaiArindhaal! Loving it! As expected perfect blend of class & mass! One of #Thala's best! #GVM is back in style! :-)