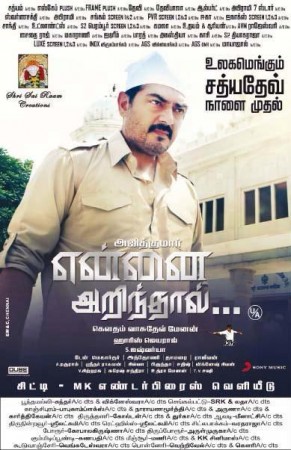 The stage is set for the release of the much-expected Ajith starrer "Yennai Arindhaal". The movie will hit the screens in India on 5 February.
"Yennai Arindhaal" is opening in a record number of screens. Early reports indicate that the Tamil movie will be releasing in more than 900 screens worldwide. In Tamil Nadu, it will be releasing in about 300 screens; with approximately 330 shows in Chennai on the day of release.
There were speculations that "Yennai Arindhaal" would have midnight shows in Chennai. Also, there is no confirmation to speculation that the first show in Chennai will be at 5 am at Kasi theatre.
From a distribution viewpoint, the response is good for "Yennai Arindhaal" in neighbouring Karnataka, where the movie will be distributed by Sri Lakshmi Narasimha Enterprises. The Gautham Menon flick will be releasing in more than 60 screens and have close to 175 shows in Bangalore alone on the first day.
Even in Kerala, "Yennai Arindhaal" is expecting a good opening. The Tamil movie is expected to release in above 150 screens by MG Nair, who has procured the theatrical rights reportedly for a big price.
"Yennai Arindhaal" starring Ajith, Trisha Krishnan and Anushka Shetty is set for a fantastic opening outside India as well.
In the US, the movie is expected to get an opening like never before for a 'Thala' movie, with the screen count crossing 90. The latest buzz indicates that the movie will release in 95 screens, considererd highest for an Ajith movie. ATMUS is distributing the movie in the US.
The movie is also releasing big in Malaysia and few other countries.
Meanwhile, advance booking for the movie has started in Tamil Nadu, Karnataka and few other regions, and the response from Ajith fans is reportedly overwhelming.