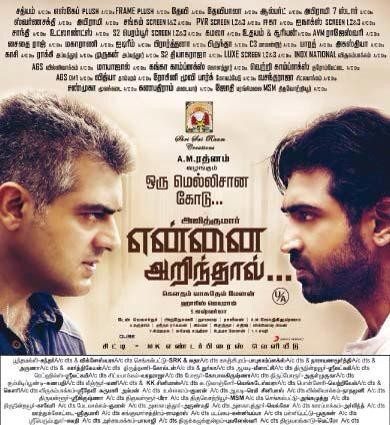 The first weekend box office collection of Ajith's "Yennai Arindhaal" has come and reports suggest that the film has done farely well at the box office.
The latest reports suggest that the movie had grossed approximately ₹15 crore in the international soil, which is considered a decent performance. The film has garnered highly positive reviews from the US and Australia, while in the UK, the theatre reports are seen as average, according to Andhra Boxoffice.
United States
"Yennai Arindhaal" had minted around ₹3.10 Crore in the US in its opening weekend.
The latest Gautham Menon film had become the highest grossing Ajith film ever by breaking the all time record collections of his previous hit "Arrambam" by Saturday (3 days since its release).
Australia/ New Zealand
In Australia/ New Zealand, the film had crossed ₹90 lakh in the opening weekend, which is again the highest for Ajith. However, this box office numbers are not good enough to beat the box office collections of Vikrams "I' and Vijay's "Kaththi".
United Kingdom
In the UK, the box office numbers of "Yennai Arindhaal" differ from other big overseas markets. The film had grossed ₹1 crore, which is less than Ajith's "Arrambam" and "Mankatha".
The estimated box office collection of "Yennai Arindhaal" in rest of overseas is reportedly ₹10 crore, making the total box office collection of the movie in overseas market ₹15 crore.
Meanwhile, the worldwide collection of "Yennai Arindhaal" has crossed ₹50 crore mark in four days, which is estimated to be ₹53. 65 crore.
Meanwhile, the makers of "Yennai Arindhaal" have trimmed the movie by six minutes to make the film more crisp and appealing. Reports are that the latest theatrical versions has cut the introduction scenes of Anushka, "Yen Ennai" song as well as the parts of Trisha's dance in "Maya Bazaar" song.
The latest editing version of "Yennai Arindhaal", therefore has a running time of 163 minutes. The movie is produced by AM Ratnam under the banner of Sri Sai Ram Creations.