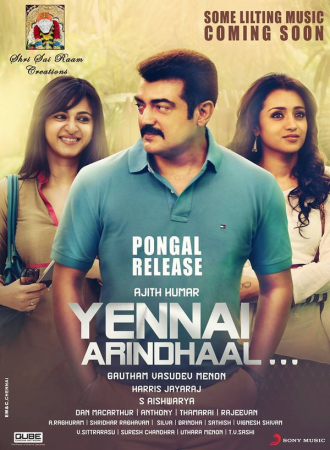 The songs of the much-awaited movie "Yennai Arindhaal" was released on New Year's Eve. As expected from the Harris Jayaraj-Gautham Menon duo, the songs of the movie have been received well by audience and critics.
Harris Jayaraj has come out with an album of different styles of music. Though some of the musical instances gives deja vu feel of his previous songs, they are soothing. Some of the songs are melancholic, some nostalgic and some packed with a lot of energy. The new album has some sure-shot chart busters too.
The Ajith starrer has total of seven songs, which are written by Thamarai and Vignesh Sivan and sung by Khareshma Ravichandran, Sunitha Sarathy, Emcee Jesz, Karthik, Benny Dayal, Mahathi, Abhishek, Devan Ekambaram, Mark Thomas, Gana Bala, Vijay Prakash, Aalaap Raaju, Krishna Iyer, Priya Subramanian, Velmurugan and Chinmayi.
The movie, which is expected to hit theatres as Pongal release also stars Trisha Krishnan, Anushka Shetty, Arun Vijay, Parvathy Nair and Vivek.
Read the reviews of "Yennai Arindhaal" songs by critics:
"Yaen Ennai" - Singers: Kharesma Ravichandran, Sunitha Sarathy; Lyrics: Thamarai
"The album opens up in a typical HJ note with loads of western instruments in the first 70 seconds. This track is a diluted version of 'Thoodhu Varuma' from 'Kaakha Kaakha'. Albeit the similarities, the song does carry its interesting moments in the second interlude via saxophones, and that is the only solace in this rather uninteresting tune." - Indiaglitz
"With gypsy like strumming of the guitars to set the rhythm, Sunithy Sarathy and Khareshma's quirky yet open-throat singing sound different and appealing. The sax solo in the BGM is truly international. Take the time and hit the pods with this."- Behindwoods
"Mazhai Vara Pogudhae" - Singers: Emcee Jesz, Karthik; Lyrics: Thamarai
"Harris Jayaraj had called his favorite singer to croon for one of his stock tunes. Karthik had given his best once again for HJ, but the Deja-Vu feel marred the song big time. The song gets a bit interesting in the second stanza and somehow touches the finish line without much impact."- Indiaglitz
"This is evergreen Harris for you. Karthik's honeyed singing, strong features of R 'n' B, acoustic strumming and synthesized interludes. The harmonies in the background are a true delight. A jazzed up melody with a brief rap portion. The pop like beats, blues like guitar and the prog element reminds the Toto days."- Behindwoods
"Unakkenna Venum Sollu" - Singers: Benny Dayal, Mahathi; Lyrics: Thamarai
"It is so refreshing to hear Benny Dayal in a melody and his association with Mahathi is destined to give you an ethereal feeling. This track might not work right away, but it will occupy your playlist for some time. The chorus part and the glorious, 'Oru Velli Kolusu Pola.., Intha Boomi Sinungum Keezha.., Aniyaatha Vairam Pola.., Antha Vaanam Minungum Meala..' are too beautiful."- Indiaglitz
"Using Benny Dayal for an almost pathos is a killer move. Backed by very strong chords, mild arrangements and evenly paced rhythms, this song can instantly bring a smile on your face. Chorus portions are soulful and the lyrics are a noteworthy experimentation." ― Behindwoods
"Yennai Arindhaal" - Singers: Abhishek, Devan Ekambaram, Mark Thomas; Lyrics: Thamarai
"The composer makes use of the BGM served for the teaser as a prelude for this title track and that assures a winner right away. The lyrics are bit preachy and Devan Ekambaram has delivered them with a unique flavor. This track could well become the best opening song for Ajith. The tempo of the song is cleverly maintained with electronic beats. On the flip side, one could feel that the length of the song could have been reduced to 3.30-4 mins than prolonging the final 2 mins with the same BGM. It almost gives an impression that Harris wanted to extract too much of juice from a sugar cane." ― Indiaglitz
"The title track is all pumped-up with the dub-step effects, dainty EDM loops and not forgetting Thamarai's dashing lyrics. The highs and lows in the song are haunting and totally new. Harris has experimented with the tune progression and also has positioned the composition with multiple layered instrumentation. The interludes are tripping and Dj's delight." ― Behindwoods
"Adhaaru Adhaaru" - Singers: Gana Bala, Vijay Prakash; Lyrics: Vignesh Shivan
"The much expected and promoted song of the album, which was already released as a single track. The song doesn't carry the usual Gautham – Harris combo fizz. Vijay Prakash has tried his best to inject more energy to this already tried and tested tune and Gaana Bala joins him in the regular intervals to up the ante. The chorus part in the first 45 seconds and the interludes a little different, but even that fails to spark the festive mood." ― Indiaglitz
"Starting with the lively chorus, the song is ruled by powerful singing and peppy beats. The rhythm breakdowns in the interludes are meant to evoke thunderous response. A nice casual gaana." ― Behindwoods
"Maya Bazaar" - Singers: Aalaap Raaju, Krishna Iyer, Priya Subramanian, Velmurugan; Lyrics: Thamarai
"Harris has hired the services of 4 singers to evoke 4 different moods, and this experiment has paid off to some extent. The track carries 4 patterns and all the singers have delivered a neat performance. The famous, 'Kalayana Samayal Saadham' song gets reworked with drums and Nadaswaram in the second half of the song. The track is a near perfect 'Jugalbandhi'." ― Indiaglitz
"French house, light classical, folk-rock, ballet and what not. This is an ambitious blend of genre specific portions catering to a montage of sequences. Like the title, the song is one stop bazaar for all types of music" ― Behindwoods
"Idhayathai Yedho Ondru" - Singers: Chinmayi; Lyrics: Thamarai
"Chimayi rounds off the album with a serene melody. The track is wonderfully backed by piano and flutes. The magic happens in the last minute where Harris brings in guitars and pauses for a while before letting the flute dominate once again." ― Indiaglitz
"Grand piano to substantiate Chinmayi's soft voice, this melancholic melody is a clean winner. A female take on the Unakenna venum sollu version, this track is rich in the notations." ― Behindwoods