Ajith's "Yennai Arindhaal" has emerged as an above-average hit at the box office by the end of the second week. The Tamil movie has earned more than ₹80 crore in its two-week run in theatres.
"Yennai Arindhaal" stars Ajith, Trisha, Arun Vijay and Anushka Shetty in key roles. It is produced by AM Rathnam and directed by Gautham Menon.
It's time now to take a look at factors that are working in favour of the Tamil movie at the box office.
Factor 1: The biggest factor for "Yennai Arindhaal" is the presence of Ajith. Had he not been featured in the movie, it would not have done good business at the box office. He is the biggest attraction in the Tamil film.
Factor 2: Gautham Menon has built his own fan base over the years with his classy films. The director's movies attract both the youth and multiplex audiences. This is the second big factor in pulling audiences to watch "Yennai Arindhaal".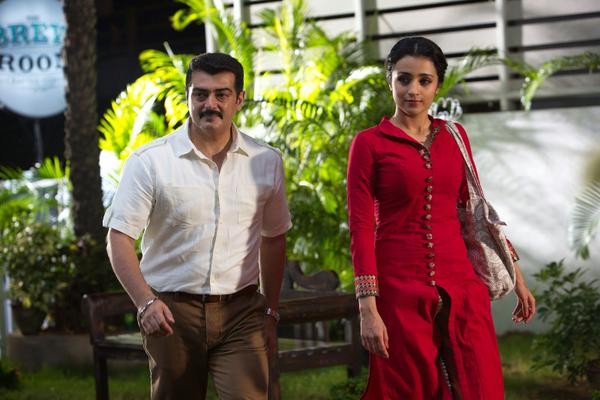 Factor 3: While the masses have enjoyed the action quotient in "Yennai Arindhaal", others are impressed by its good storyline, which also has the sentimental angle of father-daughter relationship.
Factor 4: Trisha's role has been well-written and her chemistry with Ajith has worked big time in "Yennai Arindhaal". Their romantic scenes have impressed both the youth and family audience.
Factor 5: Arun Vijay has got a big break with "Yennai Arindhaal" as a baddie. Indeed, he completely steals the show in the second half. His fans are thronging theatres to watch their favourite star sharing screenspace with A-list star Ajith.
Factor 6: Harris Jayaraj's good music, backed with Dan Macarthur's brilliant cinematography is another reason that is working for the box office success of "Yennai Arindhaal".