Ajith's star power have worked big time again. The actor's teaser from "Yennai Arindhaal" has outperformed the teasers of "Kaththi", "I", "Lingaa", and "Anjaan" in terms of likes on the Youtube.
The teaser of "Yennai Arindhaal" was released on Thursday and in less than 32 hours, the video clip has got close to 1.5 million hits on Youtube.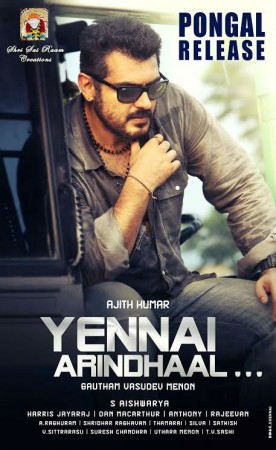 "Yennai Arindhaal" has got 45,000+ likes, which is a new record, with just 2700+ dislikes. Ajith's teaser has beaten the record of Vikram's "I", which was liked by 41,000+ people and it was disliked by 2500+. Please note that this video clip has been viewed close to 89 lakh times, which is the biggest for a Tamil movie teaser till date.
However, Vijay's "Kaththi" is in the distant third with 32,000 likes and 3600+ dislikes. It has been viewed 25 lakh times on the video-sharing site. But the surprising part of the story is that the teaser of Rajinikanth's "Lingaa" is nowhere near the competition.
"Lingaa" teaser has got 19,700+ likes and 1,500+ dislikes. But it has been viewed 40 lakh times on the Youtube.
When it comes to Surya's "Anjaan", it is in the fifth position by getting close to 18,500 likes and 2600+ dislikes. The teaser has been viewed 35 lakh times.