The civil unrest in Yemen has gone downhill since the Houthi rebels took over the presidential palace in the capital city on Tuesday.
23 January
4.00 am (IST): Al Arabiya English reports that Yemeni Parliament has been beiseiged by Houthi rebels.
3.00 am (IST): Al Arabiya English tweets that Houthis have detained several protestors in Yemen's capital Sanaa.
1.00 am (IST): "Senior Houthi leader proposes setting up presidential council to include Houthi-led popular committees, army and some political parties," tweets Reuters.
22 January
11.00 pm (IST): Government and president of Yemen resign amid ongoing standoff with Shia Houthi rebels
10.00 pm (IST): Yemeni government officials offer to resign as Houthi rebels take over more power in country.
2.45 pm (IST): "Clashes between Yemeni tribal gunmen and Houthi rebels leave several injured or killed" tweets Al Arabiya English.
1.30 pm (IST): A senior official of Yemen's Houthi movement acknowledged that a statement made by President Abd-Rabbuh Mansur Hadi aimed at defusing a political crisis was acceptable to them, as it confirmed the terms of a power-sharing agreement signed in September, reports Reuters.
12.30 pm (IST): Aden airport and seaport resume work as Yemen crisis eases, reports Reuters. Security authorities had closed all air, sea and land crossings into Yemen's southern port city of Aden on Wednesday.
11.00 am (IST): The Houthi rebels have agreed to release U.S.-backed president Hadi in exchange for more influence in running the country's affairs, translating to a greater share of power in Yemen, The Wall Street Journal reported.
8.00 am (IST): "Houthi's may not be well-liked by Yemenis, but they are a fact of life," Yemen Embassy spokesperson Mohammed Albasha tells CNN's Wolf Blitzer. "Not the time to back out," Albasha speaks about US excavating American citizens from the crisis-stricken country.
4.00 am (IST): "News director at state-run Yemen TV channel resigned on Tuesday after Houthi interference in editorial policy," tweets The Yemen Times.
1.00 am (IST): Houthi rebels and the President reach a 10-point agreement to solve the Yemen crisis. They include: editing the draft of the constitution via National Dialogue Conference, changing the bylaws of the NDC and committing to consensus building, that Yemen would become a Federal-United State per the NDC outcomes, expanding the number of seats in the Shura Council (Lower House of Representatives), giving Herak & Ansaruallah the right to nominate government officials, implementing the recommendations of the Mareb Committee within seven days of receiving it and implementing political participation within 2 weeks of receiving the recommendation of parties.
The rebels have also agreed to immediately release President Hadi's Chief of Staff Ahmed Awadh Bin Mubarak, withdraw fighters from the Republican & Presidential Palaces & the president's residence. Agreement also incorporates resumption of normal government activities, reopening of schools and universities.
RT @NadiaSakkaf: The agreement from President's meeting in English pic.twitter.com/PBbEQga2Ba

— Iona Craigأيونا كريج (@ionacraig) January 21, 2015
Aden authorities close airport, harbor and all border crossings in response to violence in the capital.
Youth activists organize a massive demonstration tom @10 protesting the "coup" plotted by Saleh & executed by Houthis pic.twitter.com/E5nq2ey6LG

— Yemen Updates (@yemen_updates) January 21, 2015
21 January
RT @irinnews: #Yemen's challenges stretch far beyond a coup attempt. New #IRIN infographic pic.twitter.com/woBRJk5VJ3

— Iona Craigأيونا كريج (@ionacraig) January 22, 2015
2.40 pm (IST): Prime Minister asks government officials to work from home, Al Jazeera reports.
2.20 pm (IST): Human Rights activist Baraa Shiban thwarts allegations that president Abd Rabbuh Mansur Hadi has escaped from the country to Aden. He is still in his house in Sanaa.
10.40 am Wednesday (IST): US military has dispatched two Navy ships to the Red Sea to assist in case US embassy personnel have to be evacuated from Yemen.
3.00 am Wednesday (IST): A Houthi leading official said that Prime Minister Ahmed Bin Mubarak was allowed to speak to his wife briefly on Tuesday night (Yemen time).
1.30 am Wednesday (IST): Militants kidnap President Hadi's nephew Salem Hadi.
1.15 am Wednesday (IST): "Just spoke to a number of President Hadil's aides, he is well and it is all quiet at Sana'a front. Insha Allah the voice of reason will prevail," tweeted Mohammed Albasha, a spokesperson for the Yemeni Embassy in Washington, D.C.
1.00 am Wednesday (IST): Rebels have four demands: promptly reform the National Authority to Monitor the Implementation of National Dialogue Conference; edit the the new draft of the constitution; swiftly implement the full partnership clauses in the Peace and National Partnership Agreement, and promptly address the security situation in Mareb.
12.00 midnight Tuesday (IST): "We condemn the drawings against Islam and prophet Mohammed in France and everywhere else in the world," Houthi leader Abdel Malek al-Houthi spoke in a live video that was viewed by the public on TV. He said that he was determined to implement a power-sharing deal signed last year and warned that no one, including the president, was above what he called "open-ended" moves to see it through.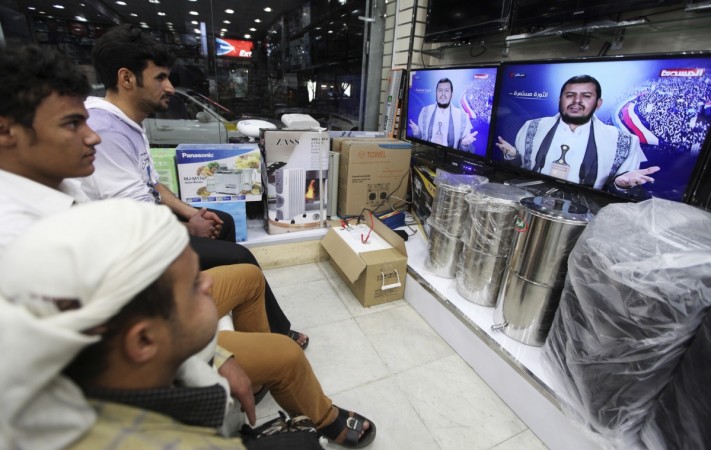 It is understood that new set of riots in Yemen began after the pro- Houthi militias abducted Ahmad Awad Bin Mubarak, the Yemeni president's chief of staff. Following the abduction, the president issued orders to the army to take over the security of the capital, reports Al Jazeera. The Shia Houthis saw the move as a government plot to dismantle their Popular Committees.
The Shiite militia fought deadly battles with the army in Yemen's capital on Monday before a ceasefire took hold. However, following the issuing of ceasefire, Houthis shelled the president's private home, reported BBC. Around 8.00 pm (IST), the rebels entered the presidential palace after a slight clash with security forces.
Although the UN Security Council condemned the attack and urged the rebels to respect the country's legitimate leaders, al-Houthi accused Yemen's leaders of corruption and said the country was at a "defining" moment.
He said that he was determined to implement a power-sharing deal signed last year and warned that no one, including the president, was above what he called "open-ended" moves to see it through. He spoke a few hours after the Houthis sieged the presidential palace in Sanaa.