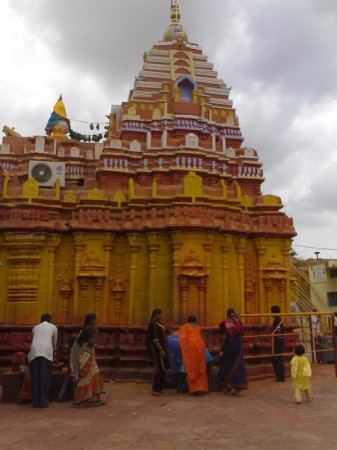 Foreigners visit India for many reasons. The culture has been the main reason for drawing outsiders to the country. From fast-developing cities to the most remote villages, India is a land of mystery and occult.
In the villages of the country, many still follow centuries-old customs and rituals. One such place that showcases the dark mystic side of the Indian culture is the famous Yellamma Devi Temple.
Those who study ethnicity, gender and sexuality, know that this place is a fantasy land. The deep colours of culture here takes you back to the time when Puranas were written, to a time when Renuka married saint Jamadagni - who later settled in Ranshrung Mountains, which is the present day Savadatti in Belgaum district of Karnataka
Like any other Indian wife, Renuka had perfected her role as a loyal wife and helped Jamdagni perform his rituals everyday. She would carry a fresh pot of water each day from the nearby Malaprabha River and bring it to Jamdagni for his rituals of Oblation.
Meanwhile, Renuka gave birth to five sons - Vasu, Viswa Vasu, Brihudyanu, Brutwakanwa and Parashurama.
They were leading a happy life before things changed completely for Renuka one day. Like every day, she went to the river to fetch water; but this time she noticed something different in the river. She saw the spirits of Gandharvas (Male nature spirits who have superb musical skills. They are frequently depicted as a singer in the court of Gods) playing in the river. She was enticed by them and for a few moments she forgot her duty towards her husband and also forgot to collect water.
Jamadagni was furious and ordered their sons to kill her. First four sons refused to do so, but the youngest son - Parasuram - who knew his father's rage very well agreed to do it. Angry Jamdagni burned his wife and first four sons to ashes and granted his youngest son a boon. Parasuram asked his father to bring back his mother and brothers back to life as his reward.
To everybody's astonishment, Renuka's spirit multiplied and moved to different regions and she was back as a whole too. This miracle inspired her sons and others to become her followers and worship her.
This is Renuka's story, who is also known as Yellama in many communities. But, certain communities believe that Renuka and Yellama are two different people. Some tales state that when Prasurama came to kill his mother, she fled to a low caste community and Yellama was the woman who tried to help her. In his rage, Parasurama had beheaded both, but when he brought them back to life, he misplaced their heads with their bodies.
Later, Jamadagni took the woman with Renuka's body as his wife and the other one is still continued to be worshiped as Yellama, the goddess of power and strength.
The Yellamma temple is situated on top of a hill near Saundatti, 70 km away from Belgaum city in Karnataka. It was constructed in 1514 by Bommappa Nayak. It is built in a combination of Chalukyan and Rashtrakuta styles.
At present, the famous temple witnesses a Yellamma Devi fair which is held on many occasions between October and February. The biggest celebration takes place on the full moon day of Margasira. On this auspicious day, millions throng to the temple to celebrate "Neeramanavi Yellammajatra", where the goddess is worshipped for her strength and power and rituals are conducted in the same way as it had been centuries ago.
What adds to the dark mysticism is the association of "Devdasi" (servants of God) system with it. Although it is banned in the country, the controversial system continues to be followed in all its vigour and charm at this temple.
The "Devdasi" system began around the 10th century in India. Devadasis were infact a muse to the kings and rulers of the land, who resided in the temple and mastered the forms of dance and music. However, like nothing is permanent in this world, life of a "Devdasi" also changed. They lost their status as the servants of God and eventually became courtesans and then prostitutes.
The most surprising and intriguing fact is that thousands flog to the Yellama Temple to offer themselves to the age-old "Devdasi" system. The fair is organised five times between November and February, where jogathis (female) and jogappas (male) are taken in for God's service.
Wearing glass bangles, garlands and smearing red and yellow "kumkuma" on their foreheads, young girls embark their "Muttukattuvudu", which says she is a servant of God and this is marked by tying beads from the goddess' necklace around the girl's neck. The girls must then express their commitment to the deity by parading in total nudity or covering their bodies with leaves of neem.
After government orders and due to the presence of public who throng to the temple town to catch a glimpse of nude and semi-nude human bodies, the rituals now take place behind closed doors, only attended by temple authorities, families of those who are dedicated to the temples.
This centuries-old trance tradition is viewed by social activist and government as major human rights violation. Governments have condemned these cult situations as a major reason for child prostitution as young girls, aged around eight years, are dedicated to the temples. The unfortunate aspect of these rituals is that these young girls are deprived of education or any other facility and often but end up as prostitute and later as beggars at the Yellama Temple doors.
In a country that is known for its fight against rape, violence, forced child marriages, a custom like this surely remains as the biggest contradiction. However, Yellamma Temple festival is too interwoven with tradition, culture, mystic belief system and any question or answer concerning it remains incomplete.