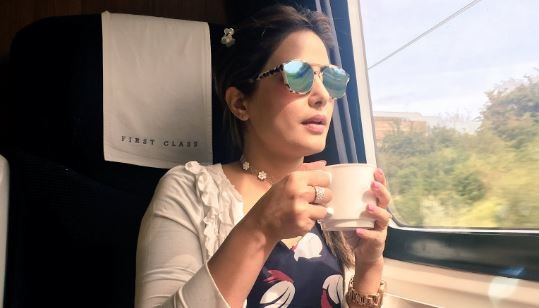 For quite some time now, television actress Hina Khan, who plays the role of Akshara in popular show Yeh Rishta Kya Kehlata Hai, has been in the news for the wrong reasons. The actress has been accused of throwing starry tantrums on the sets.
Rumour had it that the actress was not happy with the show's focus shifting towards the young actors. However, the latest buzz will leave Hina's fans as well as the show's viewers in shock. According to Tellychakkar.com, Hina has threatened the makers that she will stop shooting for the show October 2 onwards, if her demands are not fulfilled. Apparently, the actress wants the makers to sideline the younger actors and their ongoing love story and put her in the limelight once again.
"Hina wants the love story of the young characters in the show, Karthik and Naira to go off-track. She wants the show to revolve only around her character of Akshara, with her getting all the screen space and prominence," a source told Tellychakkar.com.
Considering that the show has moved on from Akshara-Naitik to the younger generation's love story, the makers are finding it difficult to give in to Hina's unreasonable demands. "Hina thinks that she is the one and only driving force in the show and that the show can not run without her. She insists on sidelining the other characters and wants the show to solely focus on Akshara, which is not possible. She did not even co-operate when the channel and creative team approached her to sit down and sort things out and is instead giving them a tough time on sets," another source told India Forums.
The report said that the channel and the production house had been trying to convince the actress to go with the storyline, but the actress seemed adamant and might stop shooting from next week if her demands are not fulfilled.
It now remains to be seen if the makers give in to Hina's demands or will the actress be replaced.