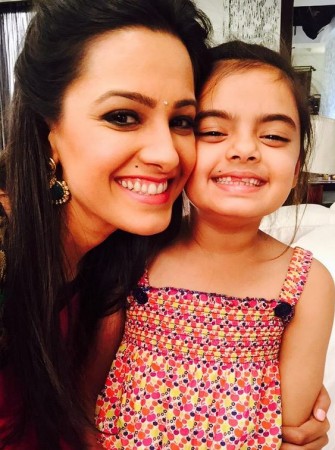 In the Star Plus hit show "Yeh Hai Mohabbatein", Ishita (Divyanka Tripathi) is seen shattered with Ruhi being taken away from her.
Ishita had to hand over her loving daughter's custody to Shagun (Anita Hassanandani) after Raman insisted that Adi needs his family more than Ruhi. However, Raman (Karan Patel) has assured her that he will get their daughter back at the earliest.
On the other hand, Ruhi, who is with Shagun, is still in state of shock that her Ishima hates her and doesn't want her back.
While, the Bhalla family thinks that Ruhi will understand her Ishima once Raman explains her the situation, an unexpected twist comes up in the show.
In the latest development in the show, the entire Bhalla family seems upset with Ruhi being away from them and is figuring out ways to get her back. In the midst of these problems, the family decides to celebrate Navratri and perform a puja for peace to prevail in the house.
And as they begin with the preparations, Ishita starts missing Ruhi, who used to enjoy the occasion. Suddenly, Ruhi makes a surprise entry and soon realizes that she wasn't invited for the celebration.
While everyone, including Ishita, is happy to see their little girl, Ruhi clarifies that she wasn't there to meet them but had come to take some of her stuff back. Further, Ruhi makes a bitter remark ruing that they have all forgotten her and hence she will, from now onwards, happily stay with her biological mother Shagun.
Her harsh words leave Ishita as well as the Bhalla family heartbroken.
It now remains to be seen if Ruhi will ever understand her Ishima and the situation under which the latter had to take the extreme step of choosing Adi over her.