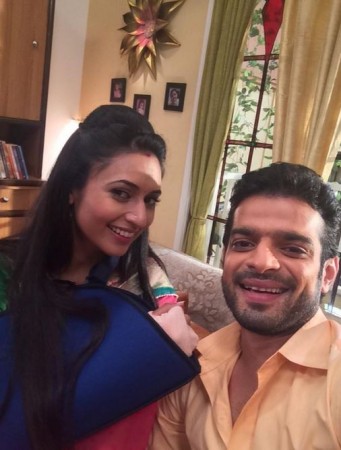 In Star Plus hit show "Yeh Hai Mohabbatein", Ishita (Divyanka Tripathi) has been in stress and anxiety without her daughter Ruhi by her side.
To add to her misery, angry Ruhi who was forced to stay with Shagun (Anita Hassanandani), is seen hating her Ishima and even made some bitter remarks that as her Ishima no longer needs her, she will happily stay with her biological mother Shagun.
As if these troubles were not enough, Ishita learns that Raman (Karan Patel) works for Ashok, which he had until now managed to hide from her as well his family. The news shatters Ishita, who thinks that Raman doesn't count upon her for his decisions. However, Raman apologises for keeping everyone in the dark as his intention was solely to protect his family.
In the latest development in the show, Ruhi is seen auditioning for an ad campaign after Shagun comes up with the idea to live off Ruhi's earnings.
Raman records her audition and takes it back home to show it to Ishita. In the video, Ruhi surprisingly talks about her loving Ishima, who is so very caring. She also mentions that it is Ishima who has made her belief that anyone who loves you will continue to do so. Although she is away from her Ishima, Ruhi mentioned that she is hopeful that they will soon reunite.
Ruhi's words brightens up Ishita's mood who is happy to see that her daughter doesn't hate her and actually loves her a lot.
With Ruhi's confession, one can't help but wonder if the little girl was just pretending to be on Shagun's side and if so, is Shagun threatening her in some way, forcing her to hate her Ishima?