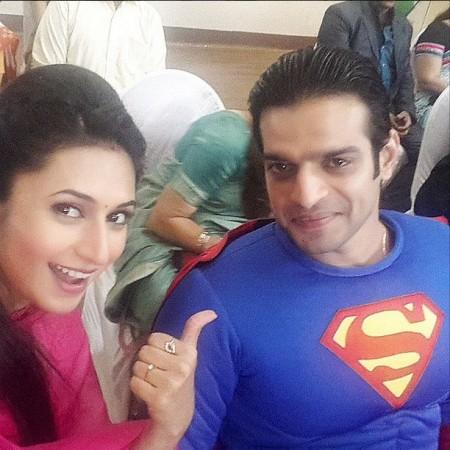 "Yeh Hai Mohabbatein" actress Divyanka Tripathi never disappoints her many fans. After uploading selfie videos using Dubsmash, the gorgeous star shared on-set selfies with co-actor Karan Patel and choreographers, who are working on an upcoming romantic dance number.
"With my #choreographers. Look out ppl... One beautiful #romantic #DanceSequence coming up...," she wrote on Instagram adding, "#DivanSelfie ppl... Dance fans dance! (sic)."
However, this isn't the first time that the onscreen lovebirds have matched steps to present a heart-warming dance sequence.
"The Holi dance which we did last year. I was wearing this white sari and I was supposed to shoot in it next day also a continuity shot but Karan didn't know and he kept on throwing colour on me and the sari got spoiled and the next day we had search for similar looking sari," Divyanka told Deccan Chronicle in an interview, a few months ago.
Meanwhile, Karan picks rain dance sequence as his favourite. "Oh the rain dance sequence. I was shivering in cold. Pani khatam ho gayatha lekin who dance nahi," he further elaborated.
In other news, the "YHM" team is very thrilled about Karan's impending wedding with fiancée Ankita Bhargava, slated to take place on 3 May.
Divyanka reportedly said everyone was excited and have been planning to do something special for the couple's big day. Unfortunately, the leading lady will not be able to shake a leg as she has been advised weeks of rest in order to recover fully from her leg injury.