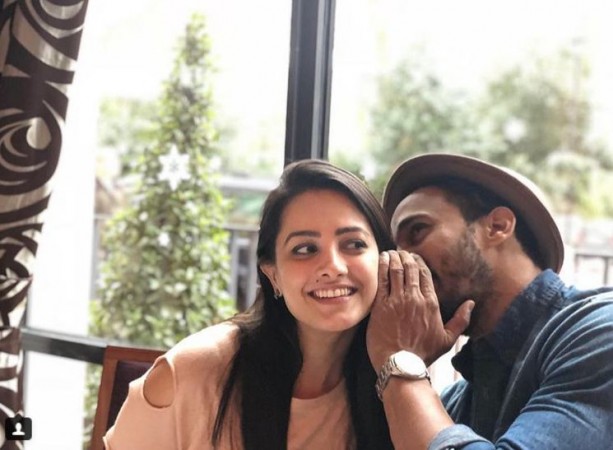 Although Anita Hassanandani has been in the industry for more than a decade, she rose to popularity with the hit show Yeh Hai Mohabbatein. Despite playing the supporting role of Shagun, Anita remains a vital part of the Ekta Kapoor show.
The actress, who is quite active on social media, recently took to Twitter to express her disappointment at a few recently-released films. "I deserve a pat on my back .... I watched #JaggaJasoos and #HarrymetSejal back to back on flight.... that too without a disprin [sic]," she wrote on Twitter.
Maharashtra Bandh: Protesters trouble Kundali Bhagya actors Manit, Shraddha; Yeh Hai Mohabbatein shoot cancelled
However, little did she know that her tweet would draw flak from haters, who started commenting on her show Yeh Hai Mohabbatein. Many also reminded her of her failed Bollywood career and how they need disprin — a generic version of aspirin — to watch it.
One of the users was quick to reply to her tweet: "#our reason for needing a disprin after watching you in YHM constantly with your presence for no reason in the show.....Sorry to say this.. I was a fan of yours once. [sic]"
Anita chose not to ignore the tweet, and put out a hilarious reply: "Take a disprin or stop watching."
This is not time first time the gorgeous actress has been trolled mercilessly. Earlier, when she shared a selfie on Twitter, one of her followers left the following comment on it: "@anitahassanandani there is nothing left for u in yhm (Yeh Hai Mohabbatein) why don't u quit the show and sign some new projects no offense. [sic]"
Anita replied calmly: "I agree. But I want to see the end of the show that I started. I want to be a part of it till the end."
Meanwhile, Yeh Hai Mohabbatein topped the Television Rating Points (TRPs) in the previous week owing to the dramatic death sequence of its lead character Ishita, played by Divyanka Tripathi Dahiya.
The sequence that placed the show on top was also trolled on Twitter. Many called the scene illogical.
The scene showed doctors assuming a poisoned and paralysed Ishita to be dead and planning to conduct an autopsy while she continued to internally scream. The show's ratings have come down this week.