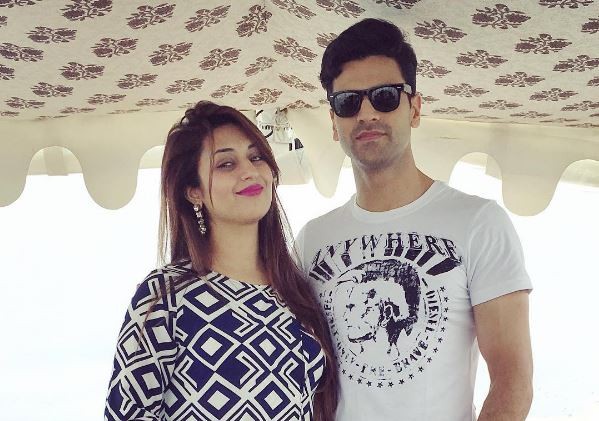 Like many married women across the country, Yeh Hai Mohababtein actress Divyanka Tripathi Dahiya, who married her co-star Vivek Dahiya on July 8 this year, is observing Karva Chauth on Wednesday, October 19. This is for the first time Divyanka is observing the festival and is quite excited for the same.
The actress, who is active on social media, took to her Instagram page to post a cute photo of herself and Vivek along with a sweet message on the occasion of Karva Chauth. "#HappyKarvachauth hubby. May you have a long long looooong life. #NazarNaLage"
Divyanka and Vivek, who met on the sets of the show Yeh Hai Mohabbatein, tied the knot in a traditional ceremony in Bhopal, followed by a reception at Vivek's hometown Chandigarh and a post-wedding party for their friends from the industry. Several picture and videos from the wedding had surfaced online.
Recently, Divyanka was in news when she escaped a fatal accident while travelling from Surat to Mumbai. The actress, who had visited the city to attend a garba night during Navratri festival, was returning to Mumbai along with her spot boy. According to reports, her car rammed into a road divider and fell into a farmland at midnight. Fortunately, the actress escaped the accident without any major injury.
"The driver must have fallen asleep for a couple of seconds and lost control of the car. The car broke the divider and jumped off the road. Luckily there were barely other cars on the road. Also, the road from Surat to Mumbai is very well maintained hence a fatal accident got averted," the Yeh Hai Mohabbatein actress was quoted as saying by the Times of India.