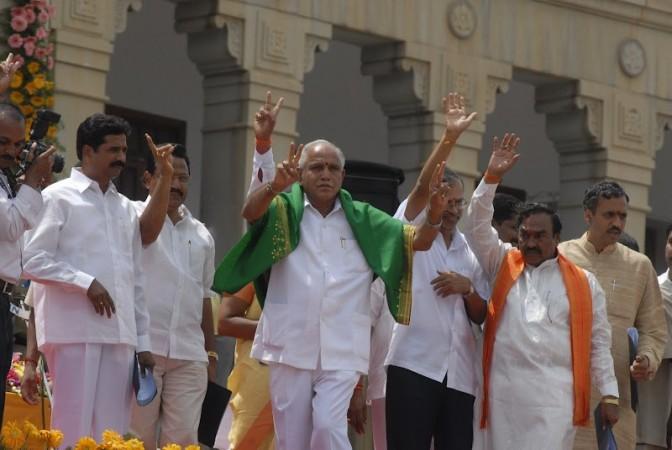 Lingayat community strongman BS Yeddyurappa seems to be eyeing the deputy chief minister post for one of his loyalists after sealing the top chief minister job for Jagadish Shetter from his camp.
According to a news daily, Yeddyurappa and his supporters are suggesting Revu Naik Belmagi, Raju Gowda and Shobha Karadlaje for the deputy chief minister post, in a bid to prevent dividends of power at the Karnataka helm.
Following DV Sadananda Gowda's resignation from the chief minister post as a result of strong-arm politics of the Yeddyurappa camp, the BJP high command was mulling over the decision to create a deputy chief minister post in its Karnataka unit. The top brasses were also considering a nominee from the Gowda camp in a bid to appease the sentiments of the Vokkaliga community.
The BJP's party policies are understood to have no room for the deputy chief minister post in its ruling state. However, in view of the challenges involved in dealing with the internal feud in its south unit, the high command is contemplating that the formation of a deputy post will sort out the ongoing crisis in the Karnataka government.
Formation of the new post may likely stir up a fresh revolt within the party, as one of factions in the Karnataka unit are reportedly urging the party bosses to pick out a deputy CM from the Yeddyurappa camp.
The former CM's suggestions over a nominee for the deputy chief minister post could force the central leadership to do away with the thought of creating a parallel post in the Karnataka government, thereby avoiding another power-struggle.
Jagadish Shetter will be sworn in as the 27th chief minister of Karnataka and as the third chief minister of the BJP unit in the state.