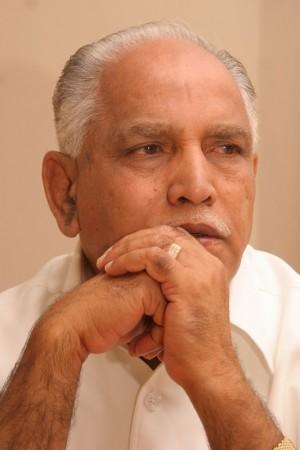 Scam-hit Karnataka BJP leader BS Yeddyurappa is hell-bent on removing Chief Minister DV Sadananda Gowda from his post.
In his latest bid to bring a new leader at Gowda's place, Yeddyurappa has set a fresh three-day deadline for the Chief Minister to convey the legislature party meeting. The Yeddyurappa camp has planned to oust Gowda and bring in rural development and panchayat raj minister Jagadish Shettar in his place in the meeting, say sources.
The three-day ultimatum is the result of closed-door meeting of Yeddyurappa with his loyal supporters. Jagadish Shettar is proposed as the successor to Gowda by Karnataka BJP rebel MLAs.
The chief ministership for Gowda came as a windfall with a strong recommendation from his mentor Yeddyurappa. However, for CM Gowda, the mentor has turned into a tormentor in a power struggle to run the BJP government in Karnataka.
Yeddyurappa's insistent pressure on the central leadership to get him back on to the CM's chair has made the incumbent Gowda's tenure in the Chief Minister's Office shaky.
Yeddyurappa has been trying to regain his lost chief ministership. Meanwhile, the BJP high command could not afford to give him back the job in Chief Minister's office due to the allegations against him.
Later, Yeddyurappa put his ambition to the backburner since he was booked in many cases. At present, he is under the scanner of both Central Bureau of Investigation (CBI) and Lokayukta police. However, Yeddyurappa hasn't stopped efforts to boot out Gowda.
Yeddyurappa, who claims to enjoy the support of over 75 MLAs out of 120 BJP MLAs in 224-member assembly, has been threatening the BJP high command to topple the government in Karnataka if his demands were not met.
However, all the efforts by Yeddyurappa have miserably failed to work in his favour.
Last year, BJP bosses asked Yeddyurappa to step down after a report drafted by then Lokayukta chief justice Santosh Hegde pointed out his possible involvement in the Bellary illegal mining scam.