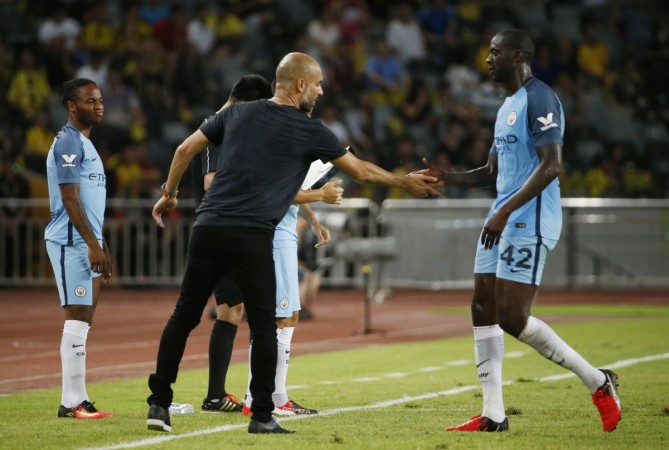 Better late than never. High time Yaya Toure has finally realised his mistake (was it really his?) and therefore, making a first move to break the ice with Manchester City coach Pep Guardiola hasn't come as a surprise. Interesting thing is that the apology has come from the 33-year-old Ivorian football star, just when the team needs him to make further impact in their domestic campaign this season.
Toure, who has featured just once for the Premier League side, in a Champions League qualification game against Steaua Bucharest in August this season, has remained out of the Manchester City team following orders from Guardiola, who was utterly disappointed with the midfielder's agent's off-the-field antics.
Toure apologised on Friday on behalf of his agent but interestingly, his agent has not apologised yet. Ironically, Guardiola had mentioned that the footballer's agent should apologise for his comments to see his client feature in the future games for Manchester City. Has the seeds of a battle between Toure and his agent already been planted now?
It all started when Toure was left out of the Champions League 2016-17 squad for Manchester City in September, as the club could not accommodate more than 17 overseas players in their final list. This attracted the wrath of Toure's agent Dimitri Seluk, who mentioned publicly that his client was "humiliated" on Guardiola's decision and that the former Barcelona manager treated his players like dogs.
Guardiola, on his part, mentioned that Toure would not be fielded if Seluk doesn't apologise for his comments.
Here's what Toure said on Friday:
Please see my statement on the situation at Manchester City:

"I wish to apologise - on behalf of myself and those who represent me - to the management team and all those working at the club for the misunderstandings from the past.

"Those statements do not represent my views on the club or the people who work there.

"I have nothing but respect for Manchester City and only wish the best for the football club.

"I am immensely proud to have played a part in the club's history and want to help City succeed further. I live to play football and entertain the fans.

"On that note, I would like to thank all of the fans for their messages through this difficult period. This means a great deal to me and my family."
Here's what Dimitri Seluk has said:
[To TalkSport] 'I'm not apologising. We want peace, but I'm not apologising. Apologise for what?

'Maybe Toure has apologised for this, but I don't know for what. I think Yaya don't mean this. He wants peace between him and Guardiola.

'A lot of supporters want to see Yaya on the field and Yaya wants to help Manchester City get good results.

'We want to make peace between Guardiola, Yaya and me for the supporters, the team and for the results.

'A player like Yaya, one of the top players in the world, with a big salary, normally doesn't stay out of the team. He must play.'

[To Daily Mirror] 'I don't think that Pep will ever love me, but the most important thing is that we try to forgive what has happened in the past and develop a new relationship.

'This is a genuine gesture. I hope Pep accepts that my hope is that we can start with a clean page.'