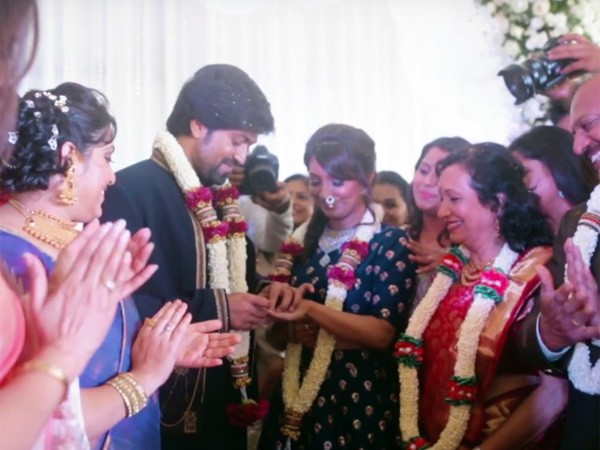 Preparations for the wedding of Yash and Radhika Pandit are going on in full swing and the couple will tie the knot on December 9. Now, the video of the couple's engagement has been released on YouTube.
The celebrity couple got engaged on August 12 and the event was held at an upscale hotel in Goa on the occasion of Varamalakshmi festival. Ambareesh, Ravichandran and Puneeth Rajkumar were the prominent guests at the function.
The video showcasing the highlights of their engagement has been released online. The clip brings the best moments from the event right from the time the couple arrived at the venue to celebrities clapping when they exchanged the rings.
Blushing bride Radhika Pandit sported a navy blue desi outfit, while groom Yash donned a black sherwani for their engagement. However, the complete video of their engagement has not been released yet.
Meanwhile, Yash and Radhika Pandit are busy inviting guests for their marriage. They have personally met many stars, including Shivaraj Kumar, Upendra and Sudeep at their residences and requested their presence at their wedding.
Multifaceted personality Arun Sagar is designing the wedding set for Yash and Radhika Pandit and around 60-70 people are working on it at Palace Grounds. The set will have a temple-like look inspired by the architecture from Belur and Halebidu.
Apart from the wedding, the couple is throwing a two-day reception party; one for celebrities and relatives and other for the couple's fans and the general public on December 11.