Celebrity couple Yash and Radhika Pandit have revealed the name of their son on Tuesday, 1 September. They have announced it in a cute video that they shared on their social media pages.
Well, the name of the little munchkin is Yatharv. It means 'complete', as per Moonastro website.The Sandalwood's hottest couple has posted a short clip of the naming ceremony function which has now gone viral.
They had welcomed the baby in October 2019, but the naming ceremony was delayed due to the lockdown that came into effect in March 2020 over coronavirus outbreak. The formal announcement has put an end to the rumours around Yatharv's name.
Radhika Pandit had delivered her first child (daughter Ayra), 10 months before the birth of Yatharv.
Talking about handling two munchkins earlier, Radhika Pandit said that it was a daunting task, but thanked her parents for their help. On her Instagram account, the actress wrote, "I know many of u were curious about how I am managing two kids.. U see these two people in the pic, they are my SECRET!! Its becoz of them I get to relax. Ayra and Junior cant stay without them. They are Mummy and Pappa to me, Mimi and Ajju to them!! ❤ P.S : Ayra calls her Ammama as Mimi coz as a baby she heard me call my mom Mummy.. so that stayed!! #nimmaRP #radhikapandit. [sic]"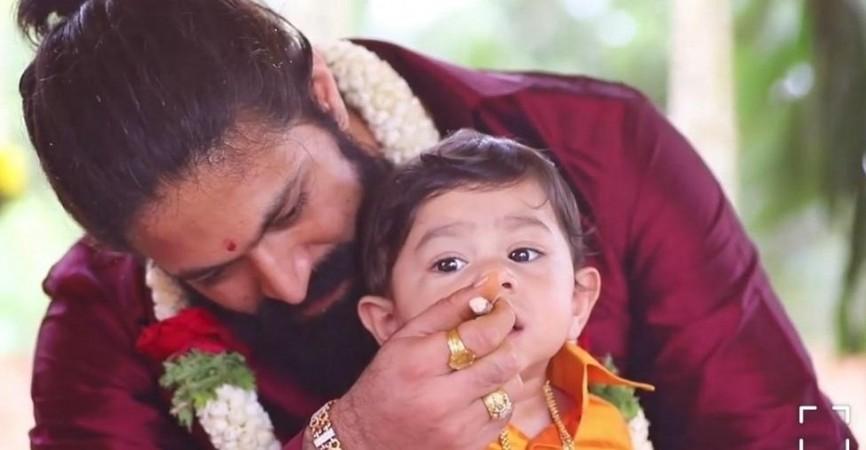 However, the lockdown has come as a blessing to Yash to some extent as it has given time for him to spend with his family and especially with his kids. "It is a wonderful phase. Kids not only bring a lot of happiness, but also a different side of me. I have been enjoying this time with them. In fact, Ayra now has a routine that she has to feed me. She has become a mother to me - daughters are like that," the KGF star is quoted as saying by The Times of India.
The Rocky Bhai stated that his son is very demanding. The actor says, "He doesn't sleep until I do. Both Radhika and I have to sleep with him. Even if it is way past his bed time, he stays awake till we join him. And then, he wakes up at night and can be very loud when he wants to be,"