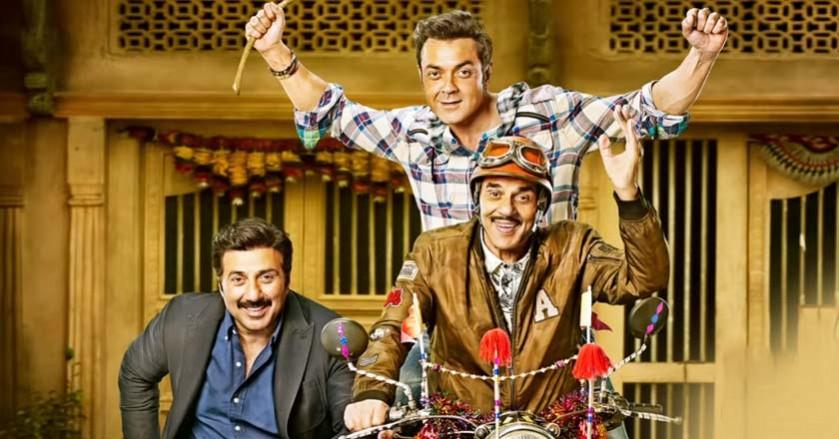 Rating
Yamla Pagla Deewana Phir Se movie review
The third film of the Yamla Pagla Deewana franchise, titled Yamla Pagla Deewana Phir Se, released in theatres on August 31. While the first film Yamla Pagla Deewana was funny and outrageous, the second one, Yamla Pagla Deewana 2, lost its way and did not generate many laughs. Let's see what Yamla Pagla Deewana Phir Se looks like.
Yamla Pagla Deewana Phir Se, directed by Navaniat Singh stars the veteran Deol Dharmendra, along with his sons Sunny Deol and Bobby Deol. The heroine of Bobby this time is played by Kriti Kharbanda. The film also stars Mohan Kapur, Shatrughan Sinha, Asrani and Satish Kaushik, with special appearances in the song Rafta Rafta Medley by Rekha, Salman Khan and Sonakshi Sinha.
One went in expecting a comic caper of a movie. But what Yamla Pagla Deewana Phir Se turned out was a movie trying to be funny, and trying to deliver a message. The Deols have done an Akshay Kumar here!
While Akshay Kumar is known to star in message-oriented movies like Toilet: Ek Prem Katha and Padman, in conjunction with the government's schemes may be, Yamla Pagla Deewana Phir Se will also please the Narendra Modi government with its message being Ayurveda and its benefits. (Akshay Kumar had also once tweeted a video from a resort in south India where he had gone for Ayurveda treatment.)
Yes, that's what remains with you in the end. The film is not just a nonsensical comedy, you see. It has a definite agenda of pleasing the Patanjali types, although thankfully the Ayurvedic products brand of Baba Ramdev has not been endorsed in Yamla Pagla Deewana Phir Se.
Story
Puran (Sunny Deol) is an Ayurvedic practitioner, belonging to an ancestry of doctors who have been serving the poor for generations. The family possesses a secret medicine, the Vajrakavach, for which Puran and his brother Kaala (Bobby Deol) are hounded by a pharmaceutical company owned by Marfatia (Mohan Kapur).
Believing in his ideas and knowing that Marfatia's company is a fraud, Puran refuses to sell the formula of Vajrakavach to the pharma giant.
The formula gets stolen and Marfatia patents it, and what follows is a court battle and also an out-of-court tussle. It is Puran's old tenant, Parmar (Dharmendra), a lawyer with his eccentricities, who helps him fight the case.
There is a love story between the good-for-nothing Kaala and Dr Cheeku (Kriti Kharbanda) also in between, with the real reason for Cheeku's presence shocking. There are some moments between the two that do make you laugh, especially when they are drinking. But not many romantic moments, since Kaala is more in love with the lady and she is on her own mission.
As fillers in Yamla Pagla Deewana Phir Se are some nonsensical scenes reserved for a funny film like this that do make you laugh a bit, but just a bit! Nothing extraordinary.
Rafta Rafta Medley song from Yamla Pagla Deewana Phir Se:
Performances
Kriti Kharbanda is definitely a whiff of fresh air in the proceedings and remains with you. After her last film Karwaan, she will be remembered for her natural performance as an ambitious Gujarati ENT doctor who can hold her drink and more.
Dharmendra and Shatrughan Sinha are veteran actors of Bollywood and don't have to prove themselves, and we can see why. They do not have to put any effort into their performance.
Sunny Deol is pleasing as a do-gooder of an Ayurvedic doctor, a soft man of integrity but who has a temper. When he is angry, this softie turns his two 'dhai kilo ke haath' on to the villains, which seems a bit odd for an otherwise sane and sensible doctor. This hulk lands in trouble because of his violence but also manages to save the girl - his brother's girlfriend this time - by stopping a truck with the same dhai kilo ke haath!
Verdict: One may argue that there is nothing wrong in Ayurveda and its practice and usage. Agreed. But having the theme of Ayurveda or traditional medicine versus allopathy in a comedy film makes the plot really go haywire.
Somehow, the presence of the Deols and certain funny moments save the film and yet, something is missing. It seems the Deols were not fully convinced of the storyline. It is a good watch for a family, as it is a clean film, but not that entertaining after all.
Rating: 1/5.
Watch Yamla Pagla Deewana Phir Se and tell us if you liked it!