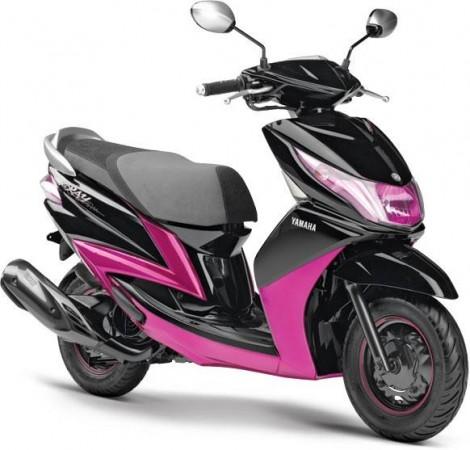 India Yamaha Motor (IYM) introduced its first scooter model for India market on Friday, aiming a sales of 1 million units by 2014 and 2.8 million by 2018.
Yamaha motor, a unit of Japanese Yamaha, first gave India a glimpse of Ray at the Auto Expo 2012 in New Delhi. The price tag of the scooter is ₹ 46,000 in ex-showroom Delhi.
"For the global Yamaha Motor group, India Yamaha Motor holds great importance as a strategic production and sales base. By 2018, our total production capacity in India will reach 2.8 million units. At that point, India will play an extremely important role among Yamaha group, not just in supplying to the Indian domestic market but also in exporting to other markets around the world. We will be working aggressively to transfer our latest technologies to India in the hope of making every contribution we can to the development of India's two-wheeler industry", said Hiroyuki Yanagi, President and CEO, Yamaha Motor Company Ltd, after the introduction of its first scooter Ray.
Specially designed to cater to the needs of the young female generation, the new Ray weighs 104kg and packs an air-cooled engine of 113cc four-stroke that puts out a 7Bhp of power at 7500rpm.
The scooter will be available in six variants, which include Plush Pink, Purple Pastel, Shining Blue, Burgundy Bliss, Grey Grandeur, and Black Star. Ray features best in class acceleration, easy handling & maneuverability and good fuel efficiency. The company claims a mileage of 62.1 Kilometers per litre for the new bike.
Yamaha, which is currently working to set up its new Chennai plant by 2014, has set up a new assembly unit which is purely handled by women.
"We made an announcement to build a new factory in Chennai. We are planning to start this new factory from 2014 January. With this production capacity expansion, we are targeting to achieve 1 million units sales in 2014. We will expand our total production capacity further in the long term. We are planning to expand our sales to 2 million units in 2016 and 2.8 million units in 2018"," Yanagi added.
With the announcement of its Ray scooter, Yamaha certainly entered the growing scooter market of India. Deepika Padukone has been signed as the brand ambassador for the product. According to the Yamaha website, the advanced booking of Ray which was started a few weeks back has been closed.