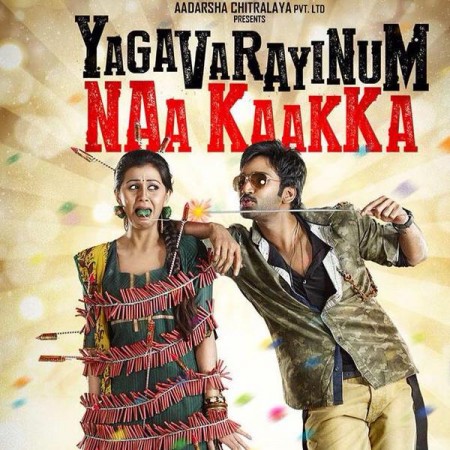 Tamil movie "Yagavarayinum Naa Kaaka' starring Aadhi, Nikki Galrani and Mithun Chakraborty has opened to mixed reviews by film critics.
Directed by Sathya Prabhas Pinisetty, the film starts off as a romantic flick, but by the second half, it becomes a psychological thriller. Though it is a well-crafted flick, critics say YNK misses out on originality.
The director of the film has been appreciated for making maximum use of his strong star cast, who have given their best. The technical aspects of the movie such as editing, cinematography, art design and costumes are good..
Here are the reviews of "Yagavarayinum Naa Kaakka" by critics:
The film has got too much to tell, but the intention has its perks. When the friction of the tongue can create words, it can also lead to unforeseen, unexpected and disastrous events, which is what YNK deals with.
With nothing much to complain, the director capitalizes on the non-linear narration to accentuate the story with acceptable twists, but the foreplay takes long time before hitting the g-spot of the screenplay. Extra attention to the clichés and the cinematic liberties would have made YNK a little better than what it is.
Credits to the harmony between the director and the national award winning editor Sabu Joseph, the film doesn't become a confused cluster of scenes, but a neatly arranged and grippingly packed (to an extent) film except for few dips and turns.
On the whole, this film is like having a grand buffet lunch where all the dishes looks delicious and tempting but ultimately is tasteless and bland. Sathya Prabhas is heavily inspired by classics like Mounaragam, Nayakan, and Naadodigal.
The story offers little by way of freshness or originality, instead piling up the cliches and reinforcing lazy stereotypes which lacks tension or thrills.
Although peppered with good actors like Pasupathy, Narain, Nassar and above all Mithun Chakravarthy, the film gives them little to do, leaving the bulk of heavy lifting to Aadhi who plays Saga and thankfully he doesn't disappoint.
Nikki Galrani's infectious smile and energy is a major plus in the first half. It is good to see a heroine takes that extra effort to dub her lines and more importantly with proper lip-sync, way to go young girl! But in the second half, she disappears and a new set of heroines and characters take over.
"Yagavarayinum Naa Kaaka" is capable debut feature from Sathya Prabhas Pinisetty. Though the film lacks synergy, which is also teh central concern for me, it is deftly handled in parts with good directorial skills.
"Yagavarayimum Naa Kaaka, surely, is a film that could be easily broken down into parts. It has all the essential genres bundled as a film- a superfluous romance track that occupy the first thirty minutes or so, a solid, riveting thriller that keeps us totally engaged over the in-between ninety minutes and a melodramatic climax that leaves us with a dim view towards the end. But, the film, surely, fares well if not more than that.